Trine safety officer to receive national award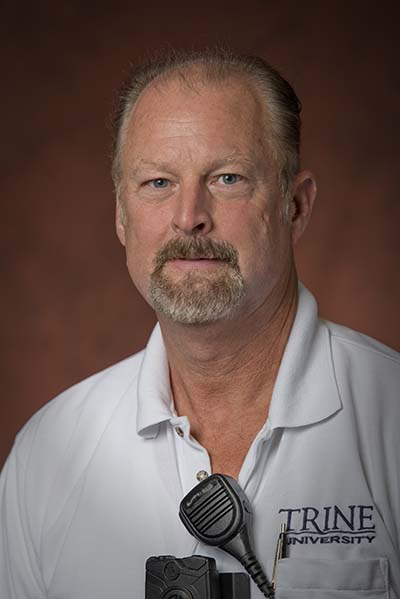 A Trine University Campus Safety officer has been named Officer of the Year by a national organization.
Officer Doug Stone will be recognized as Officer of the Year in the non-sworn category by the National Association of Campus Safety Administrators (NACSA) at its national conference, held July 23-27 in Orlando, Florida.
Stone has been with Trine University Campus Safety since 2013. Trine University Campus Safety Director Keith Hefner said that, although Stone is part-time, he works nearly all the university's special events.
"Doug is one of the best and is very deserving of this award. He is great at training our new hires," said Hefner. "He treats everyone with the utmost respect and compassion, and exemplifies what a Campus Safety Officer should be."
An announcement by NACSA states, "Officer Stone has given countless hours to his department and assisted with many aspects within his agency. Officer Stone is greatly admired by his peers and adored by the students he helps across campus.
"Officer Stone has always been dependable, and often stays late to assist his fellow officers with normal day-to-day operations, constantly improving himself and the department. With public safety as his number one concern, Officer Stone daily assists students and faculty with issues across campus.
"Officer Stone makes it a point to greet each faculty and student he encounters, ensuring they are doing well and assisting in any way possible. Officer Stone often takes on additional tasks to help the department, either by providing transportation to guests, reviewing documents or helping newly hired staff with university information. Officer Stone is a team player and encourages everyone to be their best, doing the right thing, every time."