Hundreds gather, march for Take Back the Night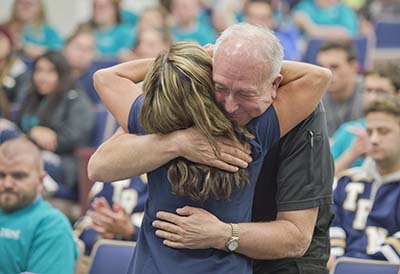 From left, Trine students Ashley Kretler of Kendallville and Emily Wilson of Alexandria hold posters as they join the march to Monument Circle during the annual Take Back the Night on Wednesday, April 11. The annual event marks Sexual Assault Awareness Month on the campus and in the community. A total of 265 Trine students, plus faculty, staff and members of the community participated in the event.
At right: Michelle Ditton, director of the Fort Wayne Sexual Assault Treatment Center, hugs Detective Tim Crooks of the Angola Police Department during the Take Back the Night rally and march.