Teacher by Trine provides insights, connections for future teachers
A teacher for 21 years, Pat Kellett of Prairie Heights High School believes programs like Teacher by Trine have value far beyond giving students a day of instruction and insight on a college campus.
"Hopefully programs like this will get people back into wanting to be a teacher," she said. "Trine does a great job of preparing teachers. If these programs can help more people discover that they have a passion for teaching, that's a good thing."
Trine University hosted about 100 students and teachers from 13 area high schools for its third annual Teacher by Trine education summit, sponsored by Walmart, on Oct. 19. Participating students are considering education for a career, with some participating in internships or cadet teaching programs.
Schools attending included Angola, East Noble, Leo and Prairie Heights high schools in Indiana, and Camden Frontier, Jonesville, Pittsford Area, Reading, Coldwater, Quincy and Bronson high schools in Michigan, as well as the Will Carleton Academy and Pansophia Academy.
Students participated in breakout sessions led by Trine University faculty on topics such as logical consequences in a classroom setting, adopting a growth mindset for students, engaging students, and needs that must be met for students to perform at full potential.
"High school juniors and seniors from around the region learned more about the qualities and strategies involved in effective teaching," said Tony Kline, Ph.D., dean of the Franks School of Education at Trine University.
Amy Barnes, a business teacher who coordinates teaching internships for East Noble High School, agreed, saying the sessions provided her students with methods they can use to make a difference in their own classrooms.
"I think they can take things from today back to what they're currently doing," she said.
Maria Hayward, a student at Prairie Heights who hopes to go into elementary education, said the sessions provided her with different insights on classroom teaching.
"We can compare their perspectives to what teachers do at our school," she said. "I think it's cool to see how different and how similar they are at the same time."
Carol Holcomb, business education teacher and ICE coordinator at East Noble High School, said the event also gave students valuable interaction with Trine teacher education majors.
"A lot of the education majors are sitting and eating with them," she said during lunch in the Whitney Commons. "They're talking about what their plans are, where they are and where they've come from, and that's good for our students to see."
Barnes said Teacher by Trine also provided students with an opportunity to share ideas with peers from other schools.
"Some of the tour guides asked us what kind of program we have, so our kids had the chance to share what kind of opportunities they have at our high school with other students," she said. "I think it's good for them to network."
Trine University plans to expand Teacher by Trine this school year, with a second session offered in the spring. For more information, interested schools can contact Linda Cooper, employment specialist at Trine University, at (260) 665-4124 or cooperl@trine.edu.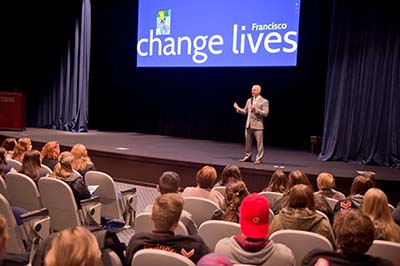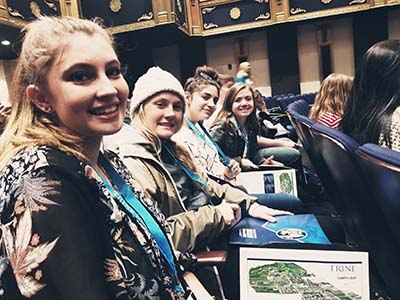 />
More Teacher By Trine photos are available on SmugMug