Trine graduate following in grandfather's footsteps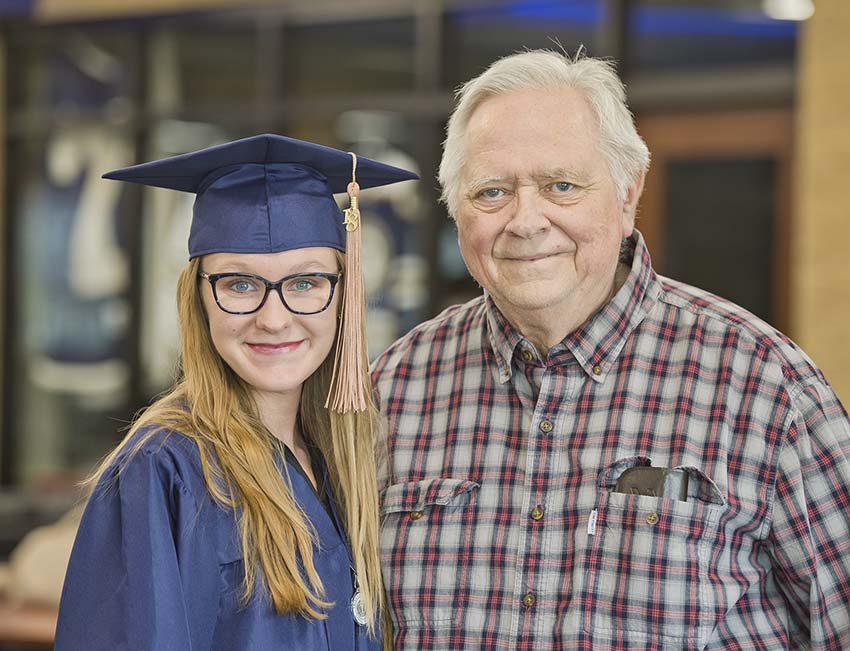 When James Thatcher graduated from Tri-State College in 1967 with an accounting degree, the first female students had recently entered TSC's business programs.
Little did he know that just over 50 years later, his granddaughter would graduate from Tri-State's successor with a business degree.
MaRissa Thatcher will graduate from Trine University with the Class of 2018 on May 5, with her grandfather cheering her on as she crosses the stage in the Keith E. Busse/Steel Dynamics Athletic and Recreation Center – a building that didn't exist when her grandfather attended Tri-State.
A management major, MaRissa grew up down the street from the Tri-State/Trine campus in Angola.
"I learned how to ride my bike on this campus," she said. "My grandpa always told me about his time studying accounting at Tri-State College. He appreciated the small class sizes and the fact that there was a university so close to his job. My Grandma also worked at Tri-State College while Grandpa was in classes. I have a picture of her feeding a squirrel from her office window in Sponsel Administration Building.
"I remember going to Tri-State football games with Grandpa when I was probably 9 years old in the old stadium. It was so fun and he was so proud to show me where he went to school."
James Thatcher came to Tri-State after serving four years in the Navy, having married two years into his hitch. At the time, he said, the college's business school had a reputation of being small but excellent, and it led him into a career that included auditing, banking, corporate finance and manufacturing ownership.
"It was what I needed at that time, which was more personal attention," he said.
That same type of atmosphere prompted MaRissa to transfer to Trine, and when she did, her grandpa was right behind her all the way.
"He wrote me an 'unbiased' letter of recommendation when I decided to transfer to Trine, and it made me cry reading all of the kind things that my grandpa tried to portray as unbiased," she said.
He also encouraged her through balancing work and classes.
"My experience was a little different because I was not married and had more free time, but I balanced a job and a full course load just like Grandpa did," MaRissa said. "He was the entire inspiration behind my efforts to keep going when I felt overwhelmed by homework, exams and sometimes multiple jobs at once.
"He is wholeheartedly the one person I strived to make proud of me during college, partially because he graduated from Tri-State, and partially because his efforts in motivating me were genuinely out of love and not 'keeping a legacy.' "
MaRissa has worked as a recruiter for Kelly Services in Fort Wayne since December, and plans to continue in that position once she graduates. She hopes to eventually get more into the sales aspect of the business.
"My father was in sales, so I'd kind of like to follow in his footsteps and get into more that side of it – managing people and accounts," she said.
The family thought MaRissa might graduate in 2017, marking an even half-century since her grandfather graduated from Tri-State, but that pace proved impractical and she finished with two online courses this spring. James is still just as proud.
"Fifty-one is just as cool as 50," he laughed.
James said it didn't surprise him that MaRissa eventually ended up at Trine.
"She has always been a very level-headed young person," he said. "I knew that if she took a look at Trine that she would like it, and that's the way it turned out."