Have canine, will travel: Trine DPT student, dog are therapy team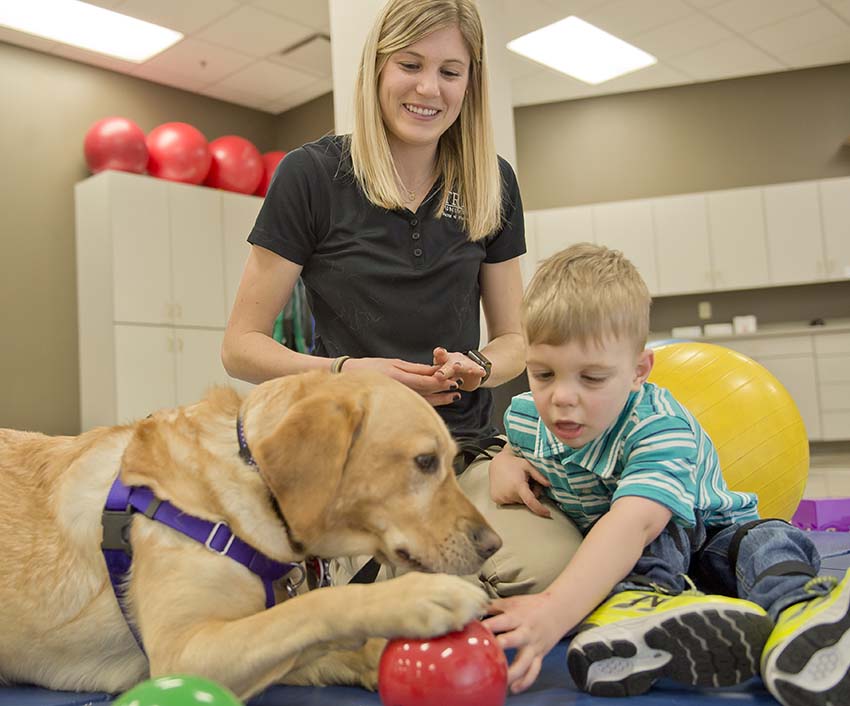 FORT WAYNE — For most who participate, Take Your Dog to Work Day is a once-a-year occurrence.
But Sarah Botts hopes her dog Maisey will become a regular part of her work once she completes her doctor of physical therapy degree at Trine University.
Botts and Maisey, a 3-year-old golden Labrador retriever, recently became certified as a therapy dog-handler team by the Alliance of Therapy Dogs (ATD).
The process began in July 2017 with Botts and Maisey completing a four-week "Canine Good Citizen" class from the American Kennel Club. One Maisey passed the test and was certified, the pair began therapy dog training in September.
After passing an initial evaluation and a test for general obedience, Botts and Maisey visited nursing homes once a week for six weeks.
"The experience was different for each nursing home," she said. "Sometimes we walked through the hallways and stopped at interested residents' rooms. Sometimes we stayed in a common area and the interested residents would come hang out and we would visit. The residents enjoyed petting her soft fur and laughed when she'd give a sloppy kiss. She loves giving kisses.
"I always had to make sure Maisey stayed between me and the wall and she never passed in front of me. Tricks were not mandatory, but the residents did enjoy her handshake! Maisey isn't required to do anything 'special' as a therapy dog except be well-behaved and offer her love and attention!"
Two ATD members joined the class for the final three weeks, observing the various teams and awarding certification to those who passed, including Botts and Maisey. The pair has since joined PAWS (Pets Assisting Well-being and Success), Inc., an organization that provides therapy dog visits around the greater Fort Wayne area.
As a therapy dog, Botts says Maisey can work in nursing homes, hospitals, schools and clinics to provide emotional and psychological support, and help clients or patients work on socialization and motor skills. Therapy dogs differ from service dogs, which are trained to provide specific skills for one person.
"Service dogs work for only their owners. Therapy dogs work for everyone," she said.
The pair first met two years ago as Botts was preparing to move from her home in Germantown, Ohio, to Fort Wayne to begin the DPT program. She decided to adopt a dog before leaving Ohio.
"I wanted a loyal best friend by my side as I went through graduate school," she said.
She searched for a dog on Craiglist and found Maisey, whose family was moving to Florida and couldn't take her along.
"I drove down in the pouring rain to Berea, Kentucky, on May 1, 2016," she recalled. "We met at a pet store and I brought her home with me! She was extremely anxious at first, but settled in quickly!"
As Maisey adjusted to her new life, Botts, who said she always wanted to own a therapy dog, began to think Maisey had great potential for that role.
"I quickly realized that Maisey was one of the sweetest dogs I've ever met," she said. "Her previous family included three little boys, so she is very fond of children and absolutely loves human attention. She loves being petted and meeting new people, so I wanted to try out therapy dog training."
Last month, the pair visited four different classes in the East Allen County Schools Early Childhood Program, located at New Haven Primary School.
"The children were so excited," Botts said. "I'd share our story and explain about therapy dogs. Then the kids would come up one or two at a time and say hello. Some were shyer than others, but it was a great experience for all the children.
"During play time, Maisey let the children place a cape over her back or would lay next to them as they played LEGOs. One child started crying about having to share toys, and Maisey helped quickly stop his tears with a few sloppy kisses. Another girl who was blind leaned in for a big hug."
They also visited the University of Saint Francis for Therapy Dog Week.
"We hung out in the library while students studied, and offered some stress relief to anyone who was interested," said Botts.
Botts hopes to continue making visits to nursing homes and schools while working on her DPT degree, and would like to get into pediatric centers, hospitals and medical facilities as well. Once she graduates, she hopes to work as a travel physical therapist, allowing her and Maisey to see the world for a few years while they work.
"I'm known as the girl who doesn't go anywhere without her dog, so of course she'll be with me whenever possible throughout our future together," she said. "I'm hopeful we can volunteer our time as clinics allow. It would be great for my future patients to meet her and for her to aid in their care!"
She hopes she and Maisey can bring the same personal attention to her physical therapy clients that she has experienced as a physical therapy student at Trine.
"When I first contacted Trine's physical therapy program, I was immediately impressed with the prompt and personal responses from the faculty," she said. "I wanted to attend a program where my classmates felt like family and where I knew I'd be comfortable living for the next three years. Trine made a fantastic first impression and immediately made me realize the program would be a great fit for me."
"Physical therapy is an amazingly rewarding field, and I want to love what I do every day," she said. "I hope to help change many lives someday, and I am very excited!"
Photo: Braden Blaugh, 3, of Columbia City plays with therapy dog Maisey at Trine University's Health Sciences Education Center in Fort Wayne as doctor of physical therapy student Sarah Botts supervises. Botts and Maisey were recently certified as a therapy dog-handler team, and Botts hopes Maisey will be part of her future work as a physical therapist. (Photo by Dean Orewiler)