Camp Wethonkitha visits campus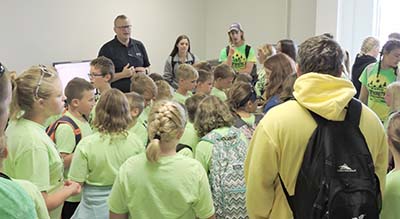 Fifty-two campers from the Camp Wethonkitha day camp at the Cole Center Family YMCA in Kendallville visited the Trine University campus on Wednesday, Aug. 1. The campers were able to tour campus and eat lunch in the new MTI Center, and saw several demonstrations related to STEM (Science, Technology, Engineering, Mathematics) fields during their time on campus.
Photos: Top, Thomas "Gus" Almonroeder, Ph.D., assistant professor in Trine's Doctor of Physical Therapy program, attaches a band with sensors used to track motion to one of the campers as he explains what some of the equipment in Trine's Biomechanics Lab is used for. Right, Jason Blume, executive director of Innovation One, tells the campus how 3-D printers like those used in Trine's 3-D printing lab are used to make prototypes.