From fixer to engineer: Trine grad now in rotation at GM
By John Clampitt
Communication '26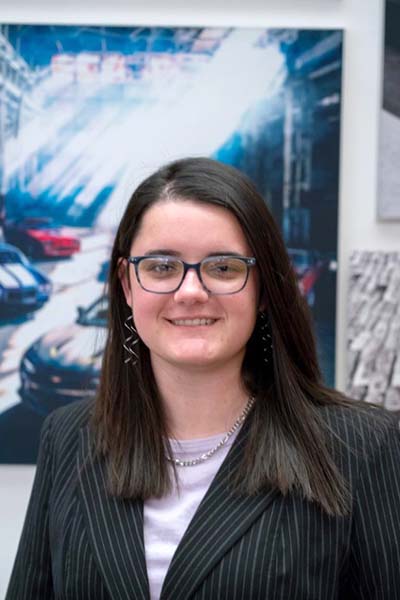 Daria Frame wasn't always interested in cars specifically, but she has always enjoyed fixing things.
"I am not joking when I say I was my dad's shadow anytime he fixed something around the house. Plumbing, landscaping, automotive, tiling, you name it and I helped," she said. "It wasn't until I was older and started understanding the answers to the questions I asked, that I became interested in the complexities of vehicles and what made them tick."
Mechanical engineering was not Frame's original interest.
"Freshman year of high school I was convinced I would be a journalist and signed up for the journalism class to support that," she recalled. "And even though I became the editor for the class, and the teacher was great, I just never looked forward to it. Turns out Journalism just wasn't my thing and not something I was interested in doing as a career."
When it came time to sign up for extracurricular classes for the following semester, there were a few different Project Lead the Way (PLTW) classes that piqued her interest.
"Because of its introductory nature and the potential for more hands-on projects, I signed up for the Introduction to Engineering Design course," she said. "From there, I pretty much fell in love with the work and decided, for the hands-on and project-oriented aspects, I would continue this program through the 'Mechanical' route. And that's what led me to choosing mechanical engineering as my college major."
"I have always found my process kind of funny because people see it as me doing a total 180° turn when I went from journalism to mechanical engineering, when engineering actually involves a LOT of writing," Frame said. "After all, it doesn't matter what an engineer builds if they can't communicate that idea to team members and customers."
Personal attention and lab time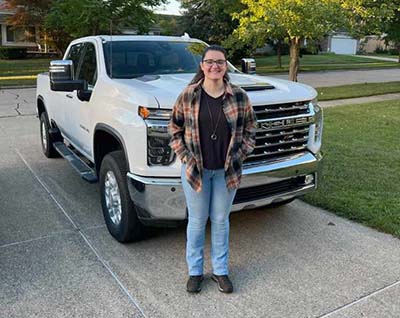 In Frame's case, there were two deciding factors when it came to choosing a college: the level of individual attention she would receive from her professors, and the quality lab time.
"My final choices were between Trine and Purdue. Trine had a much smaller student population and the professors in the mechanical engineering department seemed animated and personable and students didn't come second to the professors for time in the labs or for using the machinery. Dr. Webber's bright attitude every time I saw him leading up to my decision was great," she said. "Many of the labs we were shown at Purdue never changed - the equipment always looked unused, and the same projects were always sitting in what seemed to be the exact same spots they had been in the last time I had been there, months previously."
"At Trine, it always seemed the students were using the resources the school provided, and they were always working on a project different from what I had seen the time before. And as it turned out, with a lab manager like Joe Thompson, it makes sense. He constantly pushed students to learn all the machines and challenged us to use them to create higher-quality projects for our classes."
Frame knew she had an interest in vehicles, so when it came to applying for jobs, she reached out to multiple automotive companies.
"I applied to entry-level positions at automotive companies all over Indiana and Michigan. Allison Transmission, Ford, GM, etc.," she said. "But GM's 2-year TRACK program consisting of four six-month Global Product Development job rotations really piqued my interest. I wasn't 100% certain what I wanted to do within the automotive industry since there were so many options. So, when GM reached out to continue with interviews, I was ecstatic."
"I had my last two interviews, both via video, while visiting a friend in Boston," she said. "And those were followed up by the offer call while we were driving through Maine! Of course, I accepted - GM had such a wide range of automotive and general transportation products that I would be able to get a lot of varied experiences."
Rotation and beyond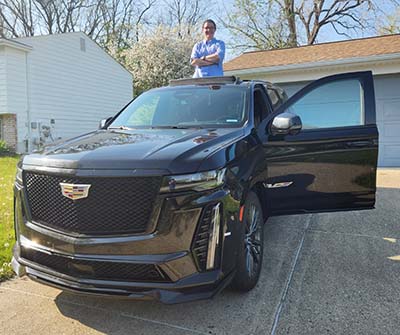 "My first rotation was with the Mass Integration Team for the Battery Electric Trucks (BET), where we predicted or measured the vehicle weight at every step of the vehicle lifecycle - from initial concept to end of life," she said. "After that, I moved to my second rotation, where I was an Engine Calibrator for the MY24 HD Duramax (diesel) Trucks focusing on the Diesel Particulate Filter (DPF) and the Regeneration process in the aftertreatment system. From there I became a Durability Test Engineer where I managed the durability testing for MY23 Colorado/Canyons, the electric Blazer, and the MY24 Buick Envista."
"For my last, and current, rotation, I am splitting my time between two groups. For the Network and System Infrastructure Team I am automating the testing of a new electrical architecture via Python scripting. For the Software Integration team, I am a Feature Integration Engineer - testing all the software features in our electric vehicles and helping to root cause any Diagnostic Trouble Codes that may occur in the process."
"While my current roles are vastly different from my past experiences, they are providing experience that will be essential to any engineer looking to enter the automotive industry as it continues to rapidly grow in the software and electric fields," Frame said.
Frame wants to continue working with GM.
"The best-case scenario is to continue the Calibration route, specifically for GM Motorsports on the INDYCAR team," she said. "More generally, I want to improve my understanding of both ICE engines (preferred) and electric motor controls to potentially become a technical specialist somewhere in one of those spaces. I believe those areas will continuously challenge me and provide plenty of growth opportunities."
Trine's ME department really helped prepare Frame for her career by incorporating projects into classes at all levels of education.
"I developed strong skills in project management, time management, and communication, all of which I use daily and is something managers often comment on," she said. "Building on that is a skill I use on what seems to be an hourly basis - problem solving and challenge management. My professors never hesitated to challenge us every step of the way and show us what we are capable of."
"With how the automotive industry is changing right now, employees that can deal with ambiguity, think on their own, and handle complex challenges with no immediately clear solutions are invaluable."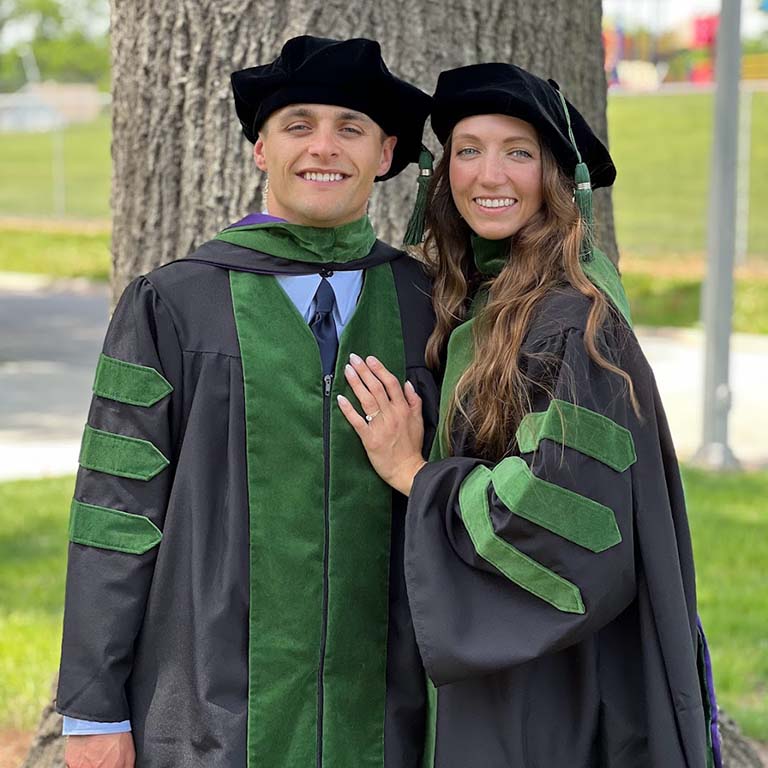 November 29, 2023
It seems like Kole and Lucy (Sare) Hale were destined to be together.
1/3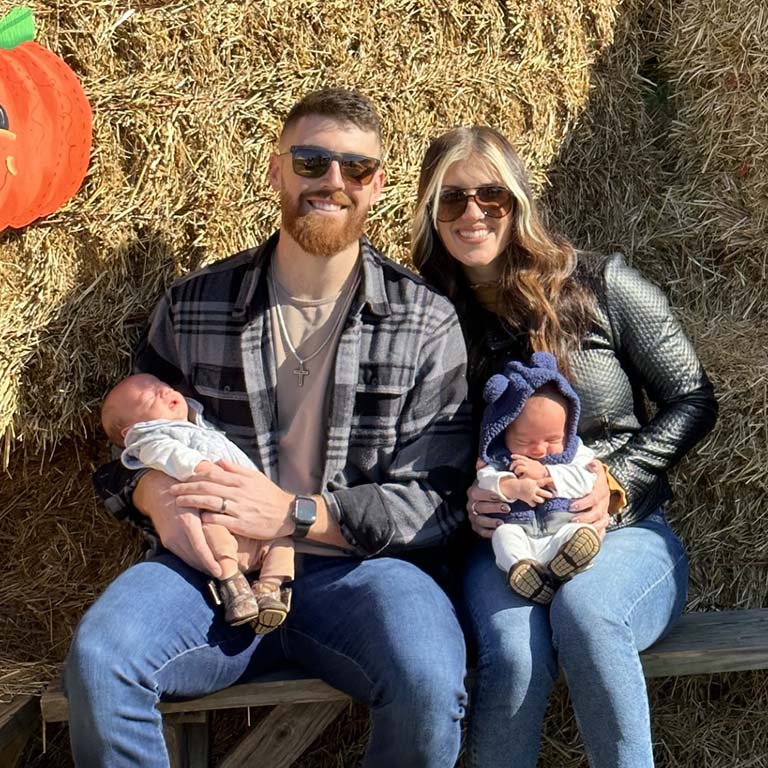 November 22, 2023
Ethan Flynn has made it his life's purpose to help people conquer their limitations and reach their goals. His passion has led him to opening and owning his own physical therapy clinic, called Revival, in his hometown of Bowling Green, Kentucky.
2/3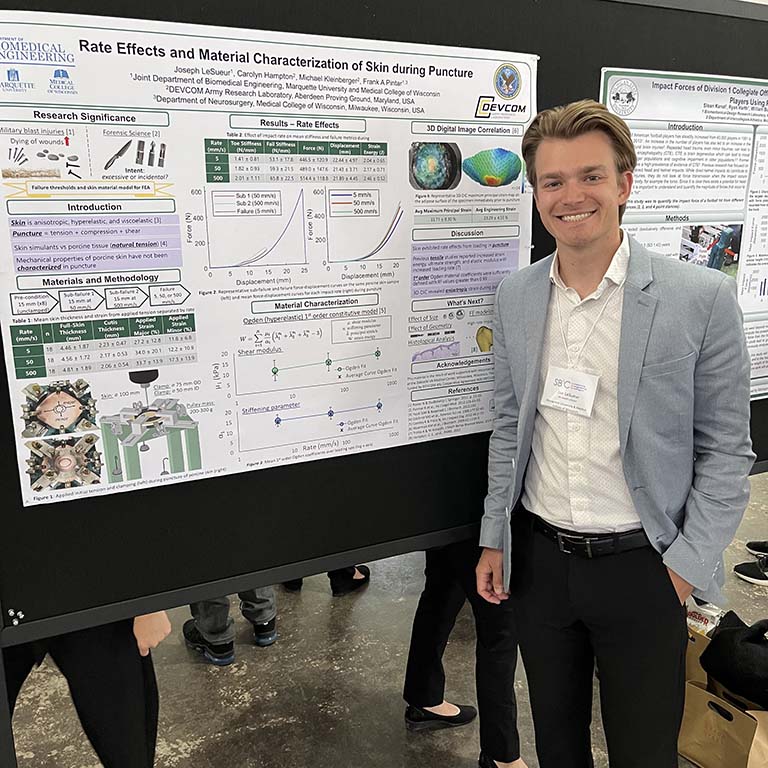 November 16, 2023
Joseph LeSueur's interest in biomedical engineering began in high school, during an internship with the BioRobotics research team at the Cleveland Clinic.
3/3