More than skin deep: BME grad researching mechanics of punctures
By John Clampitt
Communication '26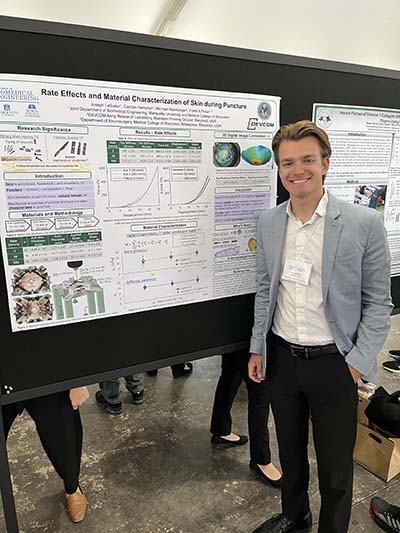 Joseph LeSueur's interest in biomedical engineering began in high school, during an internship with the BioRobotics research team at the Cleveland Clinic.
"I was introduced to mechanical testing of cadaveric tissues," the 2020 Trine University graduate said. "This sparked an interest in how understanding the mechanics of the human body can be translated to patient care by influencing surgical decisions and prescribing rehabilitation."
He is still interested in injury biomechanics and the failure thresholds of biological tissue. His thesis for his Ph.D., which he is earning through a joint program from Marquette University and the Medical College of Wisconsin, focuses on understanding the mechanical behavior of skin during puncture and ballistic impact.
"Our work focuses on understanding the fundamental mechanics of skin during high rate impact of small fragments," he said. "This experimental work is the foundation for development of finite element models which may be used to simulate multivariate impacts for advancement of improved protective clothing."
Joseph jumped at the opportunity.
"In studying ballistic impact, we found that the velocity required to penetrate skin was a function of the projectile's sectional density. For puncture of isolated skin, we quantified differences in failure thresholds based on impactor size, loading rate, and thickness of the skin," he said. "I also used digital image correlation and histology to determine directional dependency in strain and damage to collagen fibers in the dermis, respectively."
Golf and BME
Joseph's internship at the Cleveland Clinic gave him an idea of what he wanted to do in life, and it helped him narrow down the deciding factors in his college choice.
"My college decision had two primary criteria," he said. "The opportunities to play golf and study biomedical engineering."
After visiting several schools, Trine University became his obvious choice.
"Seeing (and playing) the Zollner Golf Course on campus surrounded by the amazing student apartments [was great], but the decision was undoubtedly clear after touring the labs and meeting Dr. Gerschutz and other fantastic BME (biomedical engineering) faculty," he said.
Joseph's experience at Trine did a great job preparing him for Ph.D. research.
"Within the BME curriculum, engineering faculty at Trine provided high-quality education and laboratory experiences (from welding to tissue culture to 3D kinematics of human movement), which enabled a straightforward transition to graduate-level courses," he said. "However, the greatest advantage of my Trine education was developing confidence and excellence in scientific writing and presenting, which was possible with small class sizes and faculty that emphasized personal development."
Joseph didn't care that Trine was a small school. He actually enjoyed it.
"Even at a small school, I was still able to gain research experience in human biomechanics, which highly motivated my decision to pursue graduate school," he said.
Joseph's future plans are similar to his current ones.
"As my career progresses, I plan to continue studying biomechanics to prevent and rehabilitate injury, whether that is in industry, academia or entrepreneurship," he said. "I am newly married to Jenna (Gales), who graduated with her Doctorate in Physical Therapy from Trine's 3+3 DPT program, and I look forward to a wonderful life of marriage, family and maybe even research collaboration!"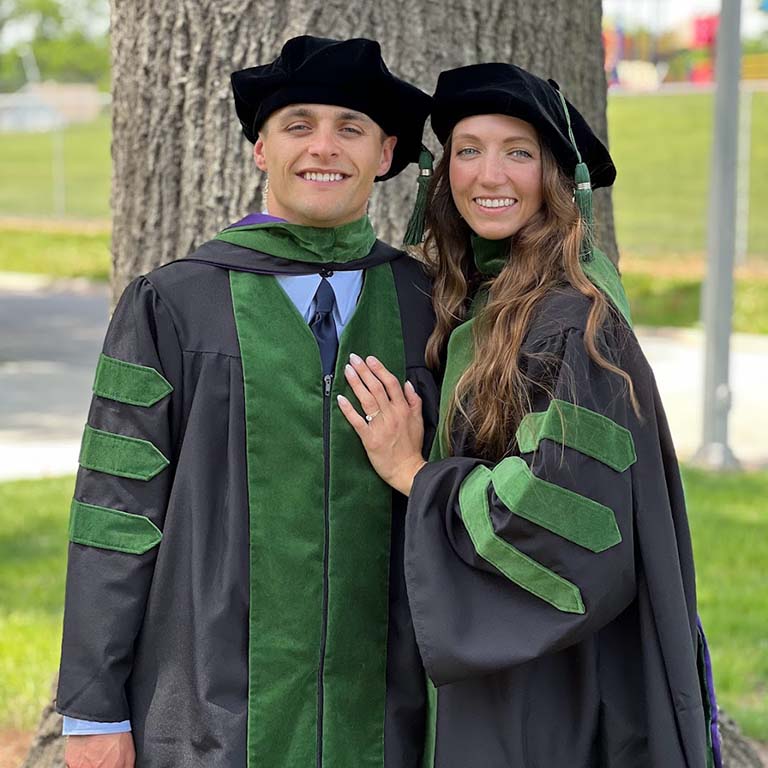 November 29, 2023
It seems like Kole and Lucy (Sare) Hale were destined to be together.
1/3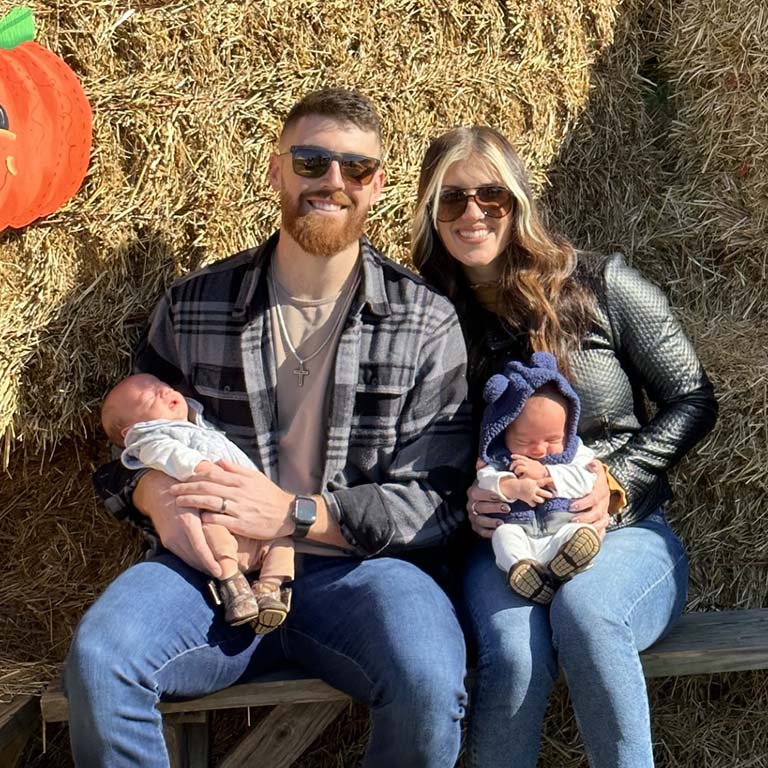 November 22, 2023
Ethan Flynn has made it his life's purpose to help people conquer their limitations and reach their goals. His passion has led him to opening and owning his own physical therapy clinic, called Revival, in his hometown of Bowling Green, Kentucky.
2/3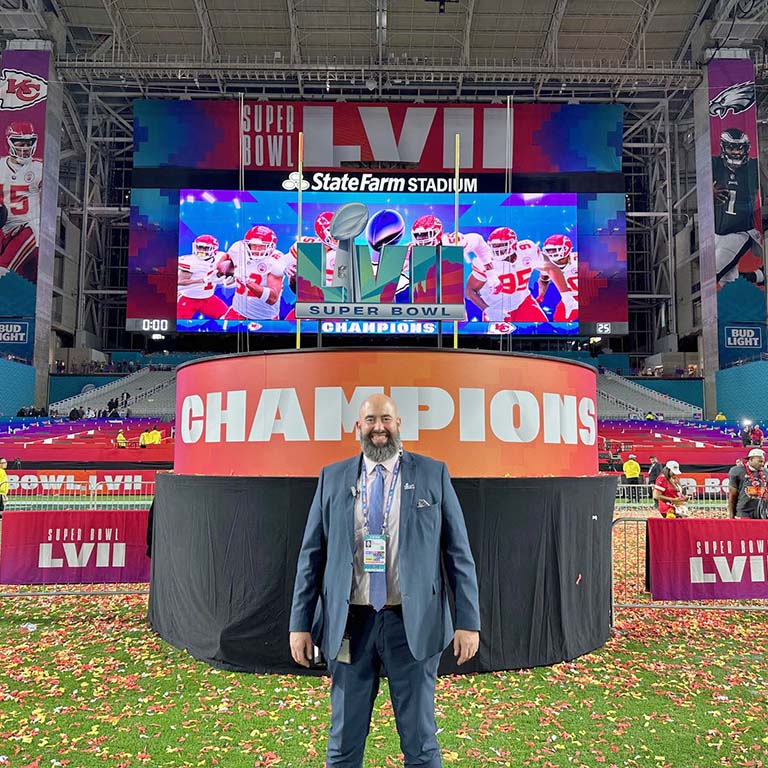 November 16, 2023
Eric Koncz says he gained invaluable insights into authentic leadership during his four years of varsity basketball at Tri-State (now Trine) University.
3/3