By Kelsy Taylor
Marketing '22
Brooke Wilber has always enjoyed being around children, which led her to major in elementary education at Trine University.
"I have been working around children for as long as I can remember," the 2020 graduate said. "I started babysitting for family and friends around the age of 13. I was also a counselor at our local YMCA day camp for a couple of summers."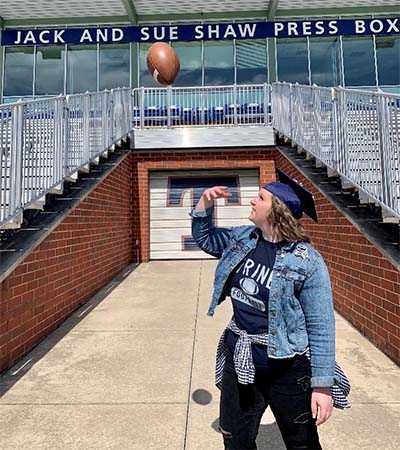 Now a teacher at Butler Elementary School in the DeKalb Eastern Community School District, Brooke originally decided to come to Trine because it wasn't far from her hometown of LaOtto, Indiana, and because of the small-town feel of the area.
"Football was another huge reason I went to Trine," she recalled. "Managing was one of the best choices I made."
At Trine, Brooke was able to graduate with more than 1,000 hours of field experience. She also created resumes and websites, and practiced job interview questions with former principals as well as Trine staff, all of which helped her secure a teaching position in a challenging environment.
"Trine gets their prospective teachers in the classrooms as early as freshman year, working hands-on and gaining experience," she said.
Her first year as a teacher has definitely not been a normal experience, due to the COVID-19 pandemic.
"Every day is a new adventure. The impact I have on my students makes the struggles worth it."- Brooke Wilber
"Our school decided to go the hybrid route for this school year," she said. "This means that every day I have in-class duties for the majority of my students, but also Zoom meetings and assignments to keep up with for my virtual students. It was a lot to juggle at once, but once I got into a routine it became easier."
Despite the challenges of the pandemic, she still enjoys the opportunity to make a difference in the lives of students that teaching gives her.
"One of the best feelings as a teacher is looking around at a room of students working hard, especially when they are working on something they are really excited to learn about," she said. "Every day is a new adventure. The impact I have on my students makes the struggles worth it."