Merrill's Detector Dog Services
Readfield, Maine

Can you imagine serving an internship with the safety of thousands in your hands? It's an experience Jacklyn Peas has every day.
Jacklyn, Wabash County, Indiana, completed an internship during the 2019 spring semester with Merrill's Detector Dog Services, a Readfield, Maine-based company that specializes in training dogs to find items ranging from bed bugs to narcotics, and even explosives.
Jacklyn, who is working toward a bachelor's degree in business management, is certified with both the National Narcotic Detector Dog Association (NNDDA) and the North American Police Work Dog Association (NAPWDA).
She became interested in the field at a young age, competing for 10 years in agility and obedience training through 4-H. In high school, she began interning at Vohne Liche Kennels in Denver, Indiana, the largest training kennel in the US.
Vohne Liche is where Jacklyn got her K9, SJ. According to Jacklyn, "Sjefke (aka SJ) is my explosives detection dog from the Netherlands. He is a hardworking black Labrador."
During her time at Vohne Liche, she also was introduced to Merrill's Detector Dog Services.
"When working at VLK, I was with a trainer when I saw little Labrador puppies running around in the kennel runs," she said. "[He] told me they were MDDS' Labs."
The trainer explained his company's role was to supply Vohne Liche with quality Labs so they could avoid importing them from overseas. He knew someone at Merrill's Detector Dogs who was looking for part-time help, and recommended Jacklyn for the position.
"I began working for MDDS part-time in Indiana and kept in touch with the company while at college," she said.
Eventually Jacklyn did her first internship, lasting two months, in Readfield, Maine. During that time she was responsible for the health of the dogs, their exercise, socialization, environmental outings, and even vet trips.
Before officially acquiring her internship in 2019 at Merrill's Detector Dogs, Jacklyn and SJ had to undergo an extensive week of training, followed by certification.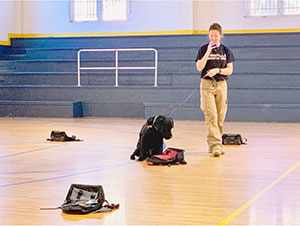 "The certification consisted of eight cars, four area searches, four rooms and 24 bags of luggage," Jacklyn said. "We had to determine which were blank and which were 'hot' (had a bomb). If we missed a bomb, we failed."
After seven hours of testing, the duo passed. Jacklyn says the key is to trust your dog.
Jacklyn is currently working as a K9 handler at the American Airline Arena, home of the Heat, as well as Hard Rock Stadium, home of the Dolphins. Her typical duties at the Hard Rock Stadium include searching incoming vehicles, mail, and FedEx and UPS deliveries at the loading dock.
At the American Airlines Arena they check locker rooms, people with bags, deliveries, and sweep entire levels of the arena. Jacklyn and SJ stay on alert both before and after the games.
"Working at these large venues is overwhelming, in a fun and fast-paced way," she said. She added that being respectful and professional is a priority while working at large venues, and her K9 must always be on his best behavior.
"I would encourage everyone to step out of their comfort zone and take a risk. While it is nerve-wracking and there are people you miss that you leave behind, take the opportunity to see the world and learn something new."- Jacklyn Peas
Jacklyn said her education at Trine provided her the skills to better market herself, practice professionalism, and maintain networking connections. Her future career goals are to be a K9 handler and train detection dogs, and she hopes to own her own K9 detection business one day.
"Working in Miami has shown me how fun it is to be a handler and that it involves a lot of training to continually improve as a team," she said. "I learned the importance of independence, time management and organization. I grew more confident in my own capabilities and knowledge, despite being younger than all of my co-workers."
"I would encourage everyone to step out of their comfort zone and take a risk," she said. "While it is nerve-wracking and there are people you miss that you leave behind, take the opportunity to see the world and learn something new."