BS Biology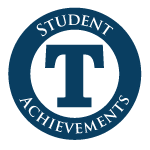 The Bachelor of Science with a major in Biology program takes you deep into science and explains its miracles. How can a living organism, composed of the same elements in similar proportions to a piece of rock, think and live, while the rock is inert? The study of biology explains this miracle, taking you beyond merely studying organisms and their environment. At Trine, you'll explore the latest advancements, including discoveries in molecular biology and biochemistry.
The Experience
Trine offers a thorough education in the classic principles and techniques of the biological sciences with application of contemporary issues and problems. Our program uses new technology to train students in modern, recombinant DNA techniques in gene cloning and chromosomal genetics. You will use a variety of equipment in our laboratories. As a senior, you will participate in a research project and may partner with local companies, organizations, and/or research laboratories.
The Results
A degree in biology prepares you for work in government and industry, such as pharmaceutical sales, teaching, environmental management and conservation, forensic science, medicine, research, and more. It is a valuable foundation for graduate programs in health-related fields, genetics, and marine biology--fields pursued by recent graduates of our biology program.
Bridgett Hoffman, a freshman forensic science major,
holds a turtle during a "Meet the Animals" event.