BSBA Management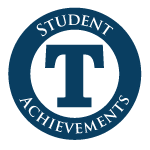 The Bachelor of Science in business administration - management program in the Ketner School of Business develops and produces leaders – young professionals with the skills and knowledge to effectively lead groups of people and deliver projects and products on time and above expectations. Our accredited program focuses on both the business fundamentals of management and the critical creative thinking required by today's top companies.
The Experience
In this program, you'll get first-hand experience of the challenges and opportunities that today's managers thrive on.
Our expert faculty and our deep corporate connections mean you'll quickly be working with real company projects.
Projects will require you to solve dynamic problems while communicating effectively to company stakeholders.
Our curriculum focuses on using case studies and project-based learning to give students exposure to the complex issues faced by management in today's global business environment.
Students will also gain valuable experience through the required internship course.
Ketner's extensive professional development program and industry connections give management students a significant advantage in finding rewarding careers upon graduation.
The Results
Our graduates work for large and small businesses, excel in graduate school and manage non-profits. Trine management professionals manage projects and people from coast to coast. Develop your critical reasoning and problem-solving skills in the Ketner School of Business at Trine University.
Develop the knowledge, analytical and communication skills required for a management career.
Our faculty, mentors and career advisors help students understand the diverse career opportunities available to management graduates.
Our modular curriculum allows students to customize their degree plan to fit a wide variety of unique personal and career interests.
Students network with targeted industry leaders through classroom projects and internships.
Students develop leadership skills through coursework and our unique Fellows program that will accelerate their careers long after graduation.