Trine Criminal Justice students named winners at national ACJA conference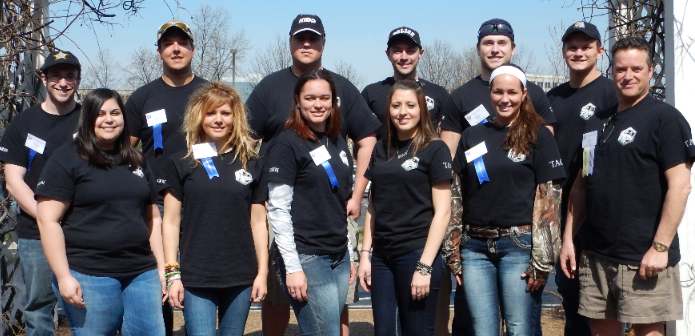 Trine University's Tau Alpha Omicron chapter of the American Criminal Justice Association (ACJA) saw success at the recent national conference competition.
The TAO chapter brought home two awards from the 2015 national conference in Nashville, Tenn., from March 22 to 25. They competed against 75 other universities and colleges in criminal justice-related events.
The students, along with associate professor Craig Laker, competed in handgun marksmanship, crime scene investigation, physical agility and written exams. Trine's students excelled in the physical agility category where Dustin Tucker, a Lake Ann, Mich., sophomore, won first place and Dylan Risser, a Goshen sophomore, won third place for males younger than 25.
"Our Trine University students competed against 300 other college students from throughout the United States," Laker said. "I am truly proud of their accomplishments and teamwork. This year's competition was one of the most challenging in the 15 years we have been involved in ACJA. Last year, our lower division handgun team won second place and we also won several written exam awards".
The conference provides learning experiences though educational activities and promotes professionalism in law enforcement and awareness of criminal justice issues. ACJA encourages the expansion of criminal justice education and training, provides a voice for professionals and students of criminal justice and promotes high ethical standards in conduct, training and higher education in the field.
Photo: Front row from left are Brittney Hampton, Stacey Herook, Kayla Keith, Mikayla Marinek, Katelyn Sager and professor Craig Laker; back row from left are Marc Edwards, Brandon Wilson, John Kidd, Andrew O'Connor, Dylan Risser and Dustin Tucker.