Garrett businesswoman receives top honor from Trine University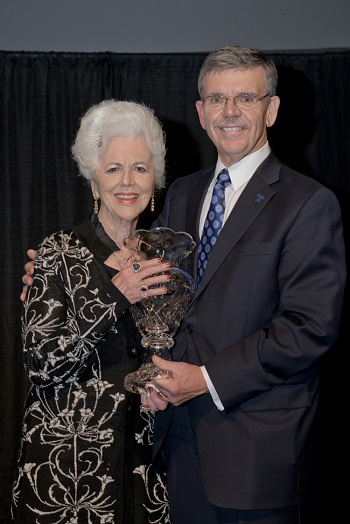 OCT. 12 – During homecoming weekend, Trine University honored a "caring and generous philanthropist" with one of its most prestigious awards.
Judy A. Morrill, of Garrett, received the Woman of Distinction Award. Before the award was presented, more than 200 guests enjoyed a video presentation featuring images of Mrs. Morrill during her lifetime. The award was presented during the Touchstone and Homecoming Celebration Dinner on Friday evening.
"Judy makes a difference wherever she goes. She puts her heart into her giving and makes a lasting impact on those around her," said Earl D. Brooks II, Ph.D., Trine president. "We are so grateful that Judy is part of the Trine University family and for her enthusiastic support and loyal friendship."
The businesswoman was also honored earlier Friday for gifting Trine with the Judy A. Morrill Garden Wall that runs along the north side of Thunder Drive from Ford Hall to Fawick Hall.
In May 2014, Trine dedicated in her honor the Judy A. Morrill concert balcony and suite in the T. Furth Center for Performing Arts.
Mrs. Morrill began serving as the president of Electric Motors & Specialties in 1989, after the death of her husband, Wayne. As principal owner and president, she's expanded the operation while maintaining a focus on operations and employee satisfaction.
In her hometown of Garrett, the Judy A. Morrill Recreation Center is named in her honor. She has also provided computers for schools and supported the library, art museum, fire department and St. Joseph Catholic Church.
The town of Orland, near her cottage at Lake Gage, has also experienced her generosity as she has helped fund the fire station, town lights and park.
The Woman of Distinction Award was first given in 2006 to honor Marjorie Bowstrom, a Tri-State University trustee. The award recognizes the powerful contributions of women in the areas of philanthropy, business and education, and is presented annually to a woman adjudged by the university to mirror the attributes represented by Bowstrom. It signifies the university's high regard for the lofty achievements of today's female leaders.