Trine lauds John McKetta Jr. for AIChE honor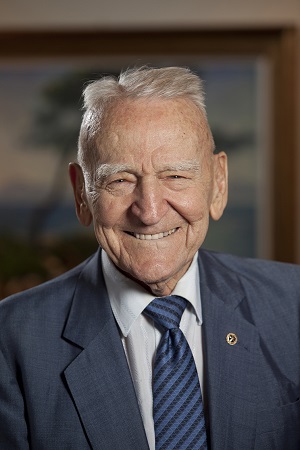 Trine University is proud to announce an esteemed alumnus and trustee emeritus was honored by a national engineering organization during the recent celebration of his 100th birthday.
John J. McKetta Jr., a 1937 graduate of Tri-State College, now Trine, was recently honored by the American Institute of Chemical Engineering (AIChE). In celebration of Dr. McKetta's 100th birthday on Oct. 17 and in gratitude for all he has done for AIChE and the profession, the organization's Cumulative Giving Society has been renamed the John J. McKetta Jr. AIChE Lifetime Giving Society.
It is not the first time he has been honored by having his name placed on a program. In 1997, Trine named the Department of Chemical Engineering in his honor. In 2012, University of Texas renamed its chemical engineering department for him.
"Dr. McKetta has long been a friend, supporter and trustee of Trine University and we congratulate him for this latest accolade from the chemical engineering institute," said Earl D. Brooks II, Ph.D., Trine president. "His influence shows in many ways on our campus and we all wish him well as he celebrates his first 100 years."
In 2011, Dr. McKetta was named a Trine trustee emeritus for being the longest-serving board member, with service from 1957 to 2011.
He received an honorary doctorate from Trine in 1967 and was named a distinguished alumnus. In 2001 Dr. McKetta was given Trine's highest honor, the Pillar of Success Award recognizing his many achievements and accomplishments, leadership, service, philanthropy and commitment to his community.
The annual McKetta outstanding teaching awards at Trine are also thanks to him.
He came to Trine after writing to more than 50 universities, asking for work during the Great Depression. He heard back only from Tri-State College, which he has described as a "little school in Indiana I read about in Popular Mechanics magazine."
Dr. McKetta is an authority on thermodynamic properties of hydrocarbons and has served as an energy adviser to U.S. Presidents Richard M. Nixon, Gerald R. Ford, Ronald Reagan and George H.W. Bush.
He earned a Bachelor of Science, Master of Science and doctorate at University of Michigan. While there, he collaborated with Donald L. Katz, his doctoral advisor, to develop a set of tables relating to underground temperature and pressure in gas and oil wells that reveal the composition of the surrounding terrain. The tables are still in use today.
In 1946 he joined the faculty at University of Texas, where he remained until retiring in 1995. Dr. McKetta has served on the boards of directors of 16 different companies, and his achievements and awards are numerous. In 1976 he won the Lamme Award as the best engineering professor in the United States. In 1981 the International Chemical Engineering Award was bestowed upon him as the top chemical engineer in the world. In 1989 McKetta won the coveted Herbert Hoover Award for his services to society.
Dr. McKetta has been a member of AIChE since 1937 and has given more than $100,000 to the organization. The John J. McKetta Jr. AIChE Lifetime Giving Society honors individual donors who have demonstrated remarkable leadership, generosity and commitment to AIChE through their ongoing support of the AIChE Foundation's activities. The society is named for Dr. McKetta, a former AIChE president, fellow, trustee and one of the profession's most beloved and influential leaders, to emphasize the impact lifetime giving makes in advancing AIChE and the chemical engineering profession.
He met his wife, the former Helen "Pinky" Elisabeth Smith in Michigan. They married on his birthday, Oct. 17, 1943, after a six-month courtship. He told Michigan Engineering at University of Michigan their marriage "must have been arranged in heaven because we had 69 fantastic, wonderful years together before her death in 2011."