Philbin encourages students to share their dreams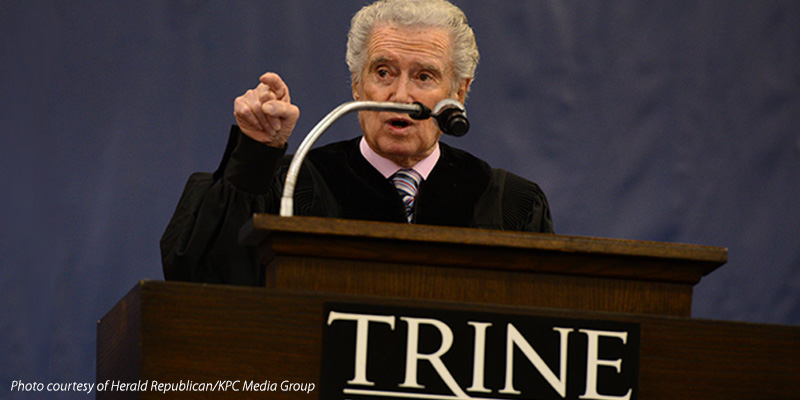 "Let people see what you can do and let them know what you want to do. It's all ahead of you and it's all waiting for you. Go get it and good luck."
That wisdom was among the advice that television icon Regis Philbin offered to the 2015 graduates of Trine University when he delivered the commencement address Saturday morning. More than 400 candidates for graduation participated in the 130th commencement ceremony with approximately 500 students graduating this year.
Philbin encouraged the graduates to not be afraid of failure or deterred by setbacks. "That was me and it shouldn't be any of you," he said. "You can go from job to job and maybe from city to city. Don't be afraid that it's not going to work out for you."
He also shared a story about how he was asked by two military superiors about what he wanted to do. "I went to Notre Dame in 1949. In 1953 when I graduated, it was another war," he said. "They fought through two wars and became my friends," he said of the military officers.
When one of the officers asked a question, he wanted a full and fast answer, Philbin said. He asked Philbin what he wanted to do with his life and he answered "I don't know what I could do for television." The superior put his face close to Philbin's and demanded to know "Do you want it? I said, do you want it?"
For Philbin, it was the first time he could see his future. He drove to Hollywood and got a job moving furniture for a prop house. He later went to work for the "Joey Bishop Show" and posed the same question to a young man in the audience. The guy could not tell Philbin what he wanted to do with his life and Philbin could not forget because the young man reminded the television icon of himself. Years later, Philbin again encountered the man. " 'You probably don't remember me, but years ago you came into the Joey Bishop Show audience to ask young people what they wanted to do … I never forgot that'," Philbin said of what the man told him. "His name was Steven Spielberg."
"If you want something, you must let people know," Philbin said. He also encouraged grads "don't be hesitant, be confident. Someone will notice what you're doing, and it will be to your benefit … Say thank you to the people who have made the biggest difference in your life." He added, "Make perfection your goal. It will always bring you that much closer to truly succeeding.
"Let people see what you can do and let them know what you want to do. It's all ahead of you and it's all waiting for you. Go get it and good luck," Philbin said in closing.
Philbin was also presented with an honorary Doctor of Humane Letters degree from Trine president Earl D. Brooks II, Ph.D.
Erin J. Lewis, the 2015 R.B. Stewart award winner, delivered the senior address. She opened with a quote from Nelson Mandela, " 'There is no passion to be found playing small; in settling for a life less than the one you are capable of living.' My hope is that as a class, we will be unsatisfied with a life that is less than what we are capable of living.
"There won't always be a safe choice but there will be another choice to stretch our limits," Lewis said. "Don't accept the life we are given, but challenge it … Live without fear and with a quest for life.
"Congratulations class of 2105, play big," she said.
The ceremony took place in the Keith E. Busse/Steel Dynamics, Inc. Athletic and Recreation Center. The Trine University Choir performed the National Anthem to open the ceremony and closed with Trine's Alma Mater.