Tino Martinez hits it out of the park during talk at Trine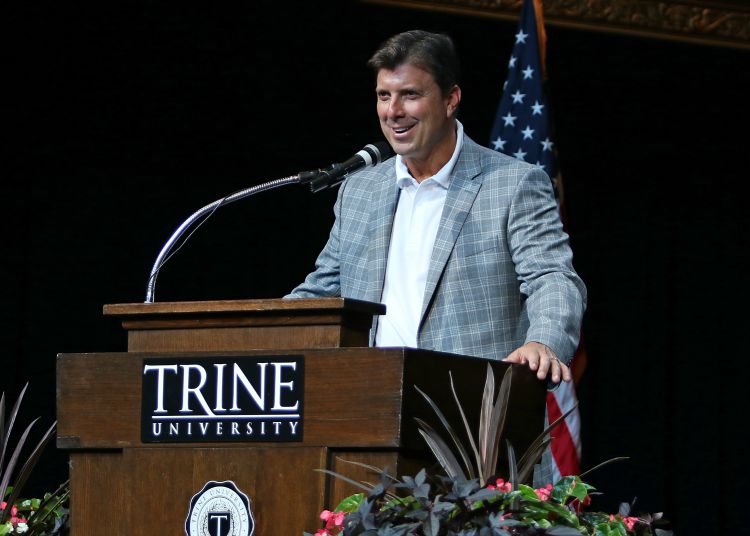 SEPT. 2 -- Keep focused on goals on and off the field to achieve them, a former Major League Baseball star said this evening at Trine University.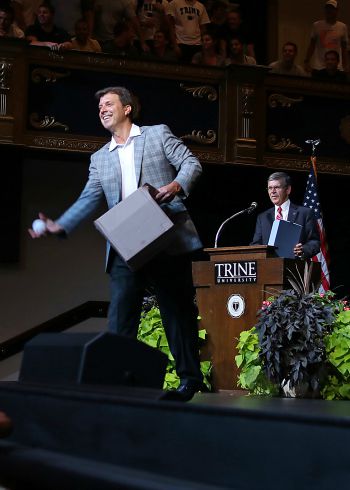 Most everyone who is successful has overcome a struggle and they kept going to reach their goals, Tino Martinez told the nearly 700 who attended Trine's Distinguished Speaker Series. Martinez played with the New York Yankees when the team won four World Series championships.
He also stressed the value of an education. "With an education from here, you have the opportunity to do big things in your life," he said. This is an "amazing campus ... you all should be very proud of that."
Martinez quipped that he could go on and on speaking, but he was there for the students. "I told Sheri and Ralph Trine that I'm here to answer your questions," he said to an audience that included area residents, students and student-athletes, and faculty and staff. The Trines met Martinez a few years ago in Florida and encouraged him to speak at the university. He spoke in Ryan Concert Hall in the T. Furth Center for Performing Arts. Thursday, he will deliver the game ball for the Trine vs. Manchester football game at 730 p.m.
Questions ranged from his favorite experience as an Olympic athlete -- ask him about Fidel Castro -- to his best teammate (Derek Jeter) to items he has from the old Yankee Stadium (seats and part of his locker).
In 1988, Martinez, along with other future Major Leaguers Jim Abbott and Robin Ventura, won a gold medal at the Summer Olympics in Seoul, South Korea. In the final game, Martinez belted two homers and drove in four runs, helping to lead the USA to a 5-3 win. At that time, professional athletes could not play on the Olympic team so Martinez and other college sophomores and juniors played.
Martinez said he was intimidated when his team entered an old stadium built for 50,000. The team entered the same way spectators did and were taken by the roar of the crowd, especially after not seeing any vehicles. The game did not start at 8 as scheduled; then it was 8:15, 8:20, 8:30 and still no umpires. Finally, the big crowd roared as Fidel Castro came in. The dictator greeted the Cuban team before he turned to American coach Ron Fraser and told the team to come over. "Coach says 'we're not going.' We want to get our of there -- there's an oooh in the stadium and then Castro comes over. Our coach says 'that's how you do it.' "
The U.S. lost the first game. Jim Abbott, a one-handed pitcher, threw in the second game. "Jim threw out two bunts and nobody bunted the rest of the game ... and we were the first team to beat Cuba in Cuba. That and winning the gold medal, too" were the best parts of the Olympic experience.
Here are some of the other highlights from the question--and-answer session:
~ On why Derek Jeter was his best teammate -- "He played his best and played his worst and his attitude never changed."
~ The toughest player he ever faced -- Pitcher Randy Johnson.
~ The mental aspect needed when in a batting slump -- "Keep working. It''s not so much your swing ... we try to make more of it than it is. Simplify everything and get back to basics."
~ Skills needed to be successful with the Yankees -- Team owner George Steinbrenner said play hard, dress well, pay attention to details and make good decisions on and off the field.
~ On why he completed his college degree -- "My mom said 'you can sign but you better get your degree.' " Plus, when he speaks he mentions the value of an education and said he thought it would be good to complete college. He was drafted after his third year in college. He was also drafted out of high school but his family encouraged him to go to college.
After fielding questions for more than an hour, Martinez threw a dozen balls to eager audience members, many of whom cheered "Tino, Tino" as they extended their hands to catch an autographed ball.
Trine president Earl D. Brooks II, Ph.D., who had introduced Martinez, returned to the stage to thank him and present an engraved crystal commemorative plate as a token of appreciation. Martinez remained in the concert hall to autograph baseball cards and other items and to pose with eager fans. His willingness to remain until the last fan departed illustrates his commitment to treating fans wells and his word that he's just like everyone else, but he plays baseball.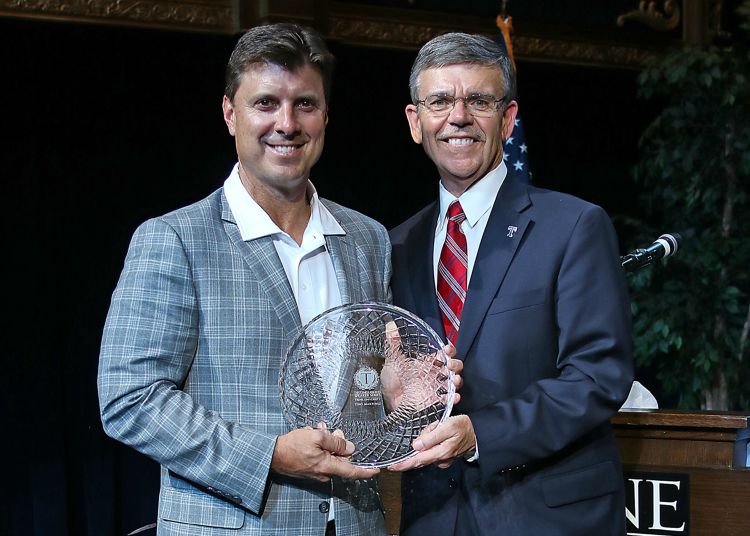 Photos by Lindsey Mechalik, associate sports information director/multimedia specialist.