White coat ceremony celebrates second DPT class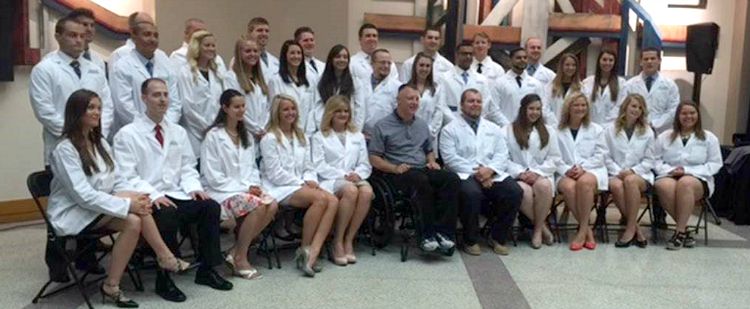 SEPT. 4 -- A white coat ceremony Friday morning in Fort Wayne celebrated 32 students in Trine University's incoming class for the Doctor of Physical Therapy (DPT) program.
Max Baumgartner, Ph.D., PT, OCS, dean of the School of Health Sciences, welcomed everyone to the ceremony and Earl D. Brooks II, Ph.D., Trine president, followed with a few remarks. This is the second DPT class; the program debuted last year.
Phillip Reinoehl was the guest speaker at the event which took place at Trine's Health Sciences Education Center, 1819 Carew St., Fort Wayne.
Reinoehl sustained an injury leaving him with incomplete quadriplegia. He shared his story of the day he suffered the injury and how his life changed overnight. He shared how physical therapy has played an important role in his daily routines and provided him with hope for improvement. Since his injury, physical therapy has enabled him to increase his physical abilities from a complete loss of movement, to partial movement and beyond. He attributes his successes to his strong support system of family and to the physical therapists and health-care providers in his life.
During the ceremony, each student is presented with a white coat. Trine associate professors Jenna Encheff, PT, Ph.D.; Thomas Ruediger, DPT, DSc, OCS; and Ryan Dombkowski, Ph.D., presented the coats.
Students in this year's class are:
Caitlyn Ailor, Zaid Baig, Edward Ball, Jena Bontreger, Jarred Burns
Kayley Colvin, Sorcha Cox, Alexandra DeBoer, Brian Doll, Breanna Duso
Mitchell Hall, Robert Heritz, Craig Hessing, Dylan Hodges, Lauren Hostetter
Angela Kesler, Neha Kothari. Jennifer Kruit, Kyle Lehrman
Stephanie Peebles, Brad Penning, Rylie Pfledderer, Kelsea Pixley, Scott Ruse
Chelsey Sims, Jonathan Stehlik, Logan Thomas, Mark Sexton
Andrew Tourney, Wasim Uddin, John Wallace, Jennifer Williams
Photo courtesy of Fawn Smith, administrative assistant, School of Health Sciences