Gala raises record amount for scholarships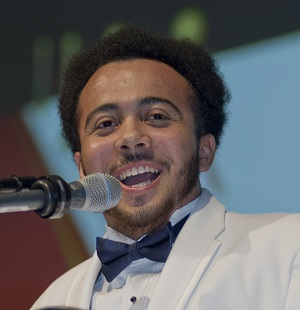 An elegant atmosphere with live music, gourmet food, live and silent auctions and even state legislators being led around by a tuxedo-clad Trine mascot Storm combined to raise more than $780,000 for Trine University student scholarships at the 14th annual Scholarship Gala on Saturday, Feb. 11.
Senior criminal justice and psychology major O'Shea Owens reminded the 438 guests at the Keith E. Busse/Steel Dynamics Inc. Athletic and Recreation Center, a record number for the event, of the impact scholarships make on Trine students.
Owens, who was Homecoming King for 2016 and serves as a university ambassador, member of the residence life staff and Blue Crew, and has participated in diversity awareness and Big Man on Campus, said a generous financial aid package made it possible for him to attend Trine.
"All of these opportunities happened for me because someone gave me a chance. Someone helped me, someone donated. You have made my success possible," Owens said in remarks to the audience. "Not only did I get an amazing college experience, I got a top-level education from professors such as Craig Laker, Dr. Michael Blaz, Cisco Ortiz, Kim Wright and John Milliken, alongside Michael Hess. They have all provided me with real-world experience and have shown me real-life scenarios."
Owens said he plans to pursue a law degree and hopes to eventually become a prosecutor.
"I am truly blessed with these last four years and the education I have received," he said. "I pledge to you that in 2018 I will be at the Scholarship Gala and I will listen to a young man or woman tell me about their dreams that I helped make possible through my contributions back to this wonderful university."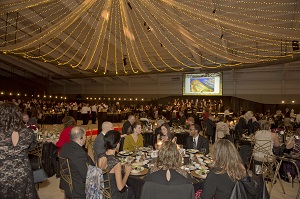 The event once again set a record by raising a grand total of $780,732. Throughout the evening, trustee and State Sen. Dennis Kruse and his son Matthew auctioned a variety of donated items, including resort vacation packages, a four-course meal for eight and sporting event packages. Books and Beyond scholarships auctioned early in the evening helped meet a $100,000 challenge grant by The James Foundation.
A silent auction featured numerous donated gift packages, sports memorabilia, designer totes, jewelry and watches, and more.
"Trine University and its students continue to be blessed by the generosity of our friends and supporters," said Earl D. Brooks II, Ph.D., Trine president. "The Gala and other fundraising efforts provide for scholarships that allow our students to afford a quality education at Trine University."
During this academic year, Trine provided more than $25 million in institutional aid to students.
Popular items included an industrial floor lamp made by local artist John Wilson that sold for $450, a children's John Deere Ride-on Front Loader donated by Peg Perego that sold for $500, and a New York Yankees suite and game package that sold for $2,750.
As with last year's Gala, there was a surprise tie auction. This year, Dennis Kruse and State Rep. Dennis Zent were called upon to give up their ties for a good cause, and were led between the tables by a tuxedoed Storm as master of ceremonies Jeff Turner, senior vice president general counsel for Metal Technologies Inc., encouraged bids. The ties eventually sold for $400.
The Trine University Jazz Band, under the direction of Brian Derek, provided live music with vocal solos by 2016 graduate Elyse Buehrer while guests enjoyed wine tasting, a gourmet dinner and chocolate dessert.