More than 160 students compete in TEAMS at Trine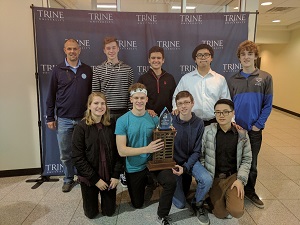 Using materials like cardboard, paper clips, clothespins and even the inevitable duct tape, 21 middle and high school teams worked to complete a design project as part of the annual Tests of Engineering Aptitude, Mathematics and Science (TEAMS) competition Feb. 21 at Trine University.

"Team-building is very crucial for these kids," said Scott Vandygriff, math teacher and coach for the Discovery Middle School teams in Granger, Indiana. "A lot of time they don't get that type of opportunity in class."

A record 168 students took part in the two-part competition, held in the Rick and Vicki L. James University Commons. The first part consisted of a multiple-choice test that teams worked together to answer; the second part was a design/build challenge where teams worked on and tested their solution to the assigned project.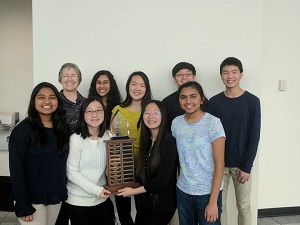 The event was one of a number of qualifiers for the TEAMS national competition, which will be held in Orlando, Florida, June 21-25, so specifics about the design/build project cannot be released until the regional competitions are completed. Vandygriff said students know going in what materials they will have available to use, but not the specifics of the project.
The theme for this year's competition is "Engineering the Environment."
As host site, Trine University's McKetta Department of Chemical and Bioprocess Engineering awards the John J. McKetta Outstanding Junior Engineering Team Award and the Mike McKetta Outstanding Junior Engineering Team Award — traveling trophies to the top teams in Divisions I and II. Division I teams are 11th- and 12th-grade teams that have competed previously; Division II teams include ninth and tenth-grade teams as well as new 11th- and 12th-grade teams.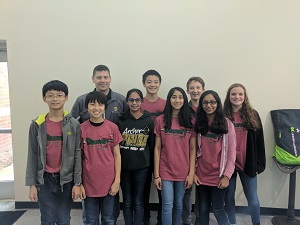 The Division I winner was the 11th- and 12th-grade team from Canterbury High School in Fort Wayne, Indiana, coached by David Walda. Team members were Abby Harrison, Connor Loechner, Liam Fuderer, David Jiang, Ben Elliott, Ryan Boyd, Hao Zeng and Sam Witwer.
The Division II winner was the ninth- and tenth-grade team from Penn High School in Mishawaka, Indiana, coached by Becky Tagliaferri. Team members were Tara Deveraj, Lyvia Li, Chelsea Chen, Riya Patel, Amy Bernard, Tingyi Lu, Seunghoon Sun and Corey Wang.
The Middle School Division winner was Discovery Middle School Team B, coached by Vandygriff. Team members were Zerui Yuan, Alexander Du, Hala Ansari, Mahica Devireddy, Saniya Zackariya, Matthew Zhang, Brennan Selcz and Lily Marks.
To learn more about the TEAMS competition, visit teams.tsaweb.org.