Trine receives national recognition for excellence in student voter engagement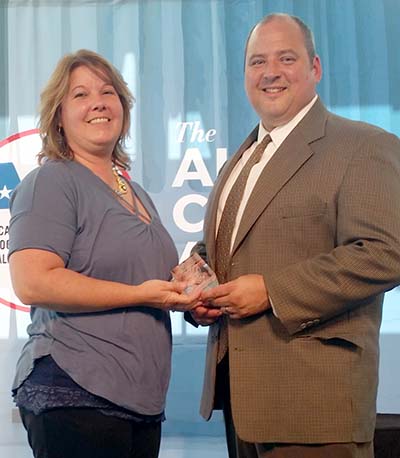 WASHINGTON, D.C. — Trine University received a Best in Class Award for having the most improved student voting rate within the four-year, small, private institution category at the first ALL IN Challenge Awards Ceremony.
Trine also earned a Bronze Seal for achieving a student voting rate between 50 and 59 percent.
The ceremony, held Thursday, Oct. 19, at the Knight Conference Center at the Newseum in Washington, D.C., recognized colleges and universities committed to increasing college student voting rates. More than 30 awards were announced at the event.
"Our mission at Trine University is to prepare students to lead, succeed and serve, and part of that effort is producing civic-minded graduates who are prepared to offer solutions to our nation's most pressing challenges," said Earl D. Brooks II, Ph.D., Trine University president. "We are honored to receive this national recognition for the efforts of our faculty, staff, administration and students to reduce voter apathy and increase engagement among our campus community."
A full list of award winners can be viewed at allinchallenge.org/awards-ceremony.
Student participation in elections has increased in the past few years. A recent report, "Democracy Counts: A Report on U.S. College and University Student Voting" from the National Study of Learning, Voting, and Engagement, an initiative of Tufts University's Institute for Democracy in Higher Education, shows that between the 2012 presidential election, and the 2016 presidential election, student voting went from 45.1 percent of eligible voters in 2012 to 48.3 percent in 2016 – a 7 percent improvement.
Trine University's data reveals its student voter registration rate increased 16 percent and its voting rate for students increased nearly 13 percent from 2012 to 2016.
"I am proud to honor Trine University with an ALL IN Challenge award in recognition of their dedication, hard work, and achievement," said Zaneeta E. Daver, director of the ALL IN Campus Democracy Challenge. "Trine University is not only ensuring that a more representative population participates in our nation's democracy, but is educating students to be civic-minded. They are an example to be emulated."
The All IN Campus Democracy Challenge is a national awards program. The Challenge encourages higher education institutions to help students form the habits of active and informed citizenship, and make democratic participation a core value on their campus. By joining the Challenge, campuses commit to:
Convening a campus-wide committee that includes members from academic affairs, student affairs, and the student body, as well as any other relevant stakeholders;
Developing and implementing an action plan to improve democratic engagement;
Participating in the National Study of Learning, Voting, and Engagement (NSLVE) in order to measure student voting rates; and
Sharing their campus' action plan and NSLVE results in order to be eligible for a recognition seal and/or awards.
Nearly 300 campuses, enrolling more than 4 million students, have joined the Challenge since its launch in summer 2016.
Photo: Jennifer LaRose, event services supervisor, and Cisco Ortiz, instructor in the Department of Criminal Justice, Psychology & Social Sciences, represented Trine University at the ALL IN Challenge Awards Ceremony on Thursday, Oct. 19, in Washington, D.C. They were part of a team that worked to increase student voter participation and engagement at Trine University.