Cameron, Trine partner to provide campus health services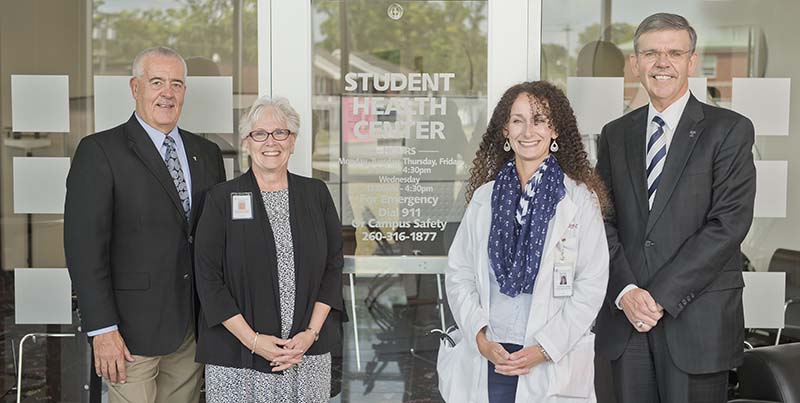 Cameron Memorial Community Hospital and Trine University have entered into a partnership to provide health services for its students on campus.
The outpatient student health center will be located in the Rick L. and Vicki L. James University Center and will be open Monday through Friday.
The clinic will be available to provide basic primary care including but not limited to physical exams, treatment planning and implementation related to minor injuries and illnesses, immunizations, screenings, lab draws, administration of medications and more.
"Historically, we've seen many Trine students in our Urgent Care Center or our Emergency Department," said Connie McCahill, Cameron president and CEO. "We are excited to be able to work with Trine and have the opportunity to take a proactive approach with students as it relates to health and wellness."
Cameron will coordinate all general clinical and administrative services for the health center as well as provide the staff and supplies necessary to run a successful clinic. The university provides the necessary clinic space as well as resources for promotion and support such as access to email and other forms of communication on campus.
"Part of the overall student experience we pride ourselves upon at Trine University is making sure our students stay healthy," said Earl D. Brooks II, Trine president. "Trine has a longstanding relationship with Cameron Hospital and we are excited to extend our partnership in order to provide our students with access to quality health care on campus."
The clinic will be open for the beginning of the 2017-2018 school year.
Release provided by Cameron Memorial Community Hospital.
Photo: From left, Randy White, Trine University vice president for student services; Connie McCahill, Cameron Memorial Community Hospital president and CEO; Rachel Stump, nurse practitioner at Cameron; and Earl D. Brooks II, Trine University president. (Photo by Dean Orewiler)