Three Trine students named Outstanding Future Educators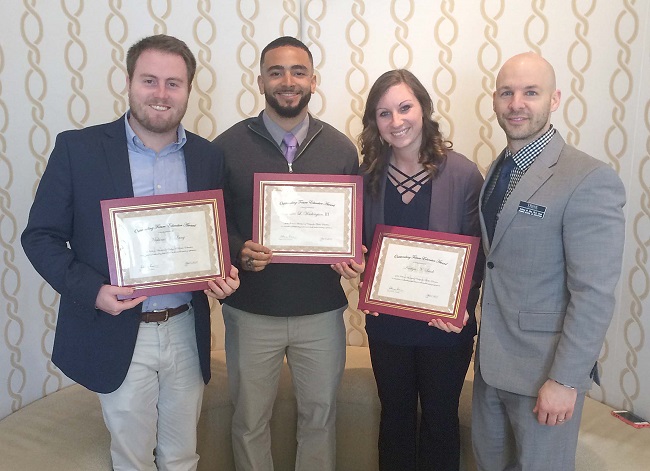 CARMEL, Ind. — Three Trine University education majors were honored as Outstanding Future Educators by the Indiana Association of Colleges for Teacher Education on April 7.
Nicklaus Lang, a social studies education major from Indianapolis; James Washington III, a health and physical education major from Michigan City; and Kaitlyn Swick, an elementary education major from Coldwater, Michigan, received awards during the organization's Outstanding Future Educators Banquet at the Ritz Charles in Carmel, Indiana.
All three are seniors.
"These three future teachers demonstrate everything you would want from an educator: passionate, engaging personalities and dedication to their field," said Anthony Kline, Ph.D., dean of the Franks School of Education. "We are so proud of their extra efforts these past years in the Franks School of Education at Trine University."
Each teacher preparation program in the state recognized teacher candidates for the honor.
"It was absolutely fantastic," said Swick. "From the distinguished educators I had the chance to meet — Indiana's state educator of the year being one of them — to the food and the new teaching ideas, I could not have asked for a better way to begin closing my college career."
"It was an honor being selected to represent Trine University's Franks School of Education," said Washington. "I had the privilege of interacting with many amazing educators and future educators. This opportunity was one I will never forget and makes me look forward to my future."
Photo: From left, Nicklaus Lang, James Washington III, Kaitlyn Swick and Anthony Kline, Ph.D., dean of the Franks School of Education.