Ryan honored by Trine with Pillar of Success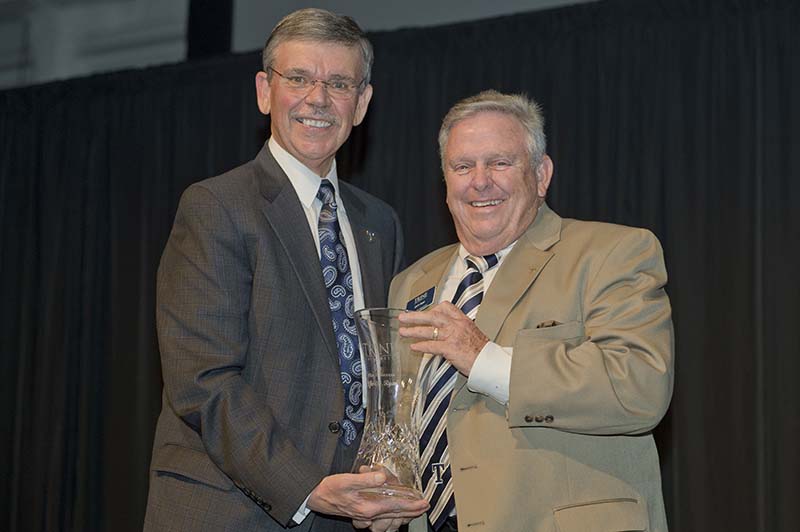 An Angola native, Trine University alumnus and member of the university's board of trustees was honored during Homecoming weekend with one of the school's most prestigious awards.
Cliff Ryan, who now resides in Naples, Florida, was surprised with the Pillar of Success award, which recognizes individuals for their achievements and accomplishments, leadership, service, philanthropy, commitment to their community profession, and to Trine. A video featuring images of Ryan throughout his life was shown to guests at the Touchstone and Homecoming Celebration Dinner on Friday, Sept. 15.
Trine University President Earl D. Brooks II, Ph.D., described Ryan as "a man full of life."
"His generosity — and that of his wife – has been a positive influence and impacted the lives of many, not only in their hometown community, but to students, alumni, faculty and staff here at Trine University," Brooks said.
Ryan grew up in Angola and was a multi-sport athlete at Angola High School, competing in golf, track, football, basketball and baseball. He also sang in the school choir. After high school, he attended Indiana University for two years, then married his high school sweetheart, Sig, and transferred to Trine University – then Tri-State College.
He graduated cum laude from Tri-State College with a Bachelor of Science in accounting in 1966 and launched his career as a certified public accountant with Price Waterhouse and Co. in Maumee, Ohio. After leaving Price Waterhouse in 1974, he worked 10 years for DuBois Chemicals as vice president of corporate planning and then became vice president of mergers, acquisitions and divestitures for Johnson Group, an English holding company.
He struck out on his own in 1987 with the purchase of an environmental company specializing in the recycling of nonhazardous industrial oils and other waste streams. He started with six employees and during the next 17 years grew the company to become a dominant supplier of disposal and recycling services for many customers in the five-state region of Indiana, Kentucky, Michigan, Ohio and West Virginia. In 2004, he sold the company to his 135 employees through an employee stock ownership plan. He remains active on the board of directors.
He continues to manage R&R Real Estate, Ltd., a trust of industrial properties for the benefit of family members.
Cliff has served as a trustee on Trine University's Board of Trustees since 2009. The Ryan Skywalk connecting the Rick L. and Vicki L. James University Center with Fred Zollner Athletic Stadium is named in the Ryans' honor as is the Ryan Concert Hall, located in the T. Furth Center for Performing Arts – the renovated Angola Christian Church and the building where Cliff and Sig were married.
The Ryans are also regular contributors to the annual fund and to Trine athletics. In 2015, the Ryan Tennis Center was dedicated in their honor. In 2016, Cliff was recognized with the university's Outstanding Achievement Alumnus Award.
Photo: Angola native, Trine University alumnus and trustee Cliff Ryan, right, receives the Pillar of Success award from university President Earl D. Brooks II, Ph.D. (Photo by Dean Orewiler)