Sobeske named Coldwater Educator of the Year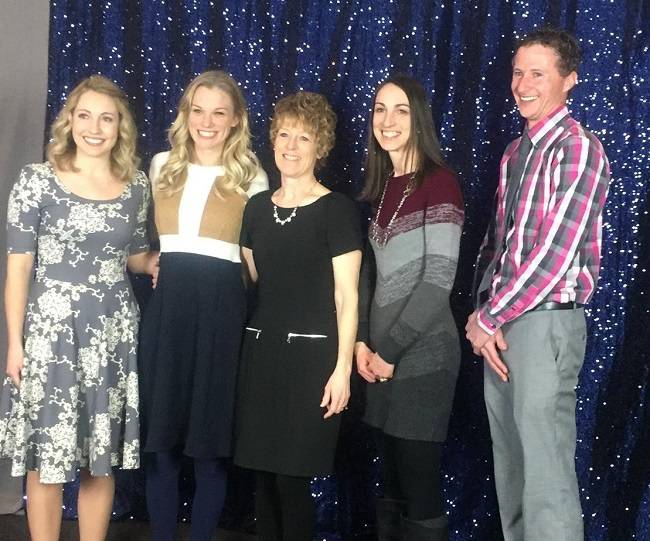 COLDWATER, Mich. — Karen Sobeske, a 1994 alumnus of Trine University, was named the 2016 Educator of the Year by the Coldwater (Michigan) Area Chamber of Commerce at its annual Community Awards Banquet in March.
Sobeske, who earned a Bachelor of Science in elementary education from Trine, serves as the Education Academy program manager for the Branch Area Careers Center. The program serves high school juniors and seniors who are interested in education as a career by providing mentoring, classroom experience and college preparation.
The award description says it is given to "a classroom teacher or administrator who has demonstrated a superior capacity to inspire a love of learning in students. This individual should be a role model and inspiration to the education community and demonstrate leadership by their participation in community events and organizations."
Sobeske was nominated by Jamie Engel, the Branch Area Careers Center director.
"I was overwhelmed and humbled to be recognized for getting to do the best job ever and spending my days being part of the lives of students, staff and parents," said Sobeske. "Being an educator has been one of the true joys of my life."
Sobeske, who also has served as a pre-school, elementary and middle school teacher as well as an elementary principal, has partnered with Trine's Franks School of Education in a variety of ways, including participating with her students in last fall's Teacher by Trine Education Summit. The Education Academy is the first dual-credit program offered by the Franks School of Education.
Photo: Karen Sobeske, 1994 BSElEd, stands with several of her former students — who are also educators and Trine alumni — after she was honored as Educator of the Year by the Coldwater (Michigan) Chamber of Commerce. From left: Lindsey Karbon, 2013 BSElEd, a fifth-grade teacher; Melanie (Sobeske) Beck, 2011 BSCOM, school psychologist; Karen Sobeske; Jennifer (Hagen) Miller, 2006 BSElEd, kindergarten teacher; and Mike Miller, 2006 BSElEd, assistant principal. Karbon is a previous recipient of the chamber's Educator of the Year award.