Parker coaches CN tennis to sectional titles
By Taylor Lehman
KPC Media Group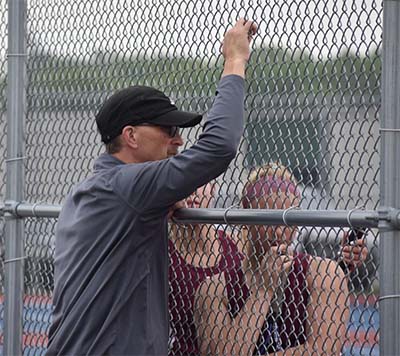 It doesn't take long to spot the Central Noble girls tennis head coach wherever the Cougars are competing.
He stands slender and tall — maybe 6-1 or 6-2 — with eyeglasses hiding underneath the bill of a baseball cap and nearly always wearing a maroon and silver Central Noble sweater. He roams the grass around the fence between himself and his seven competing players with comfort and ease, like he's been exactly where he's standing for countless seasons.
Between sets, he pulls aside his No. 1 doubles team while hanging onto the fence. Then he squares his stance, moves his arm in a swatting motion and stops to direct his players' eyes to where he wants them to adjust their own swings. He appears to be an expert at this sport.
But he's not. Brad Parker 2006 BSPE has never played tennis competitively, but he has led his girls to two consecutive sectional titles.
"When I came to Central Noble, they asked, 'Hey, we need a tennis coach. Do you know anything about tennis?' " Parker said. "And I was like, 'No, not really.' "
If he should be coaching anything, Parker said, it should be baseball. That was his sport in high school. Not that he was a superstar, but it was the sport he knew the most about while growing up.
Tennis was nowhere on his radar. That was until he reached college at Tri-State University, before it was renamed to Trine University.
Entering as a physical education major, Parker signed up to take a racquet class, and Bill Maddock was his teacher. The professor had coached men's and women's tennis, golf and swimming in his time at the university and would influence Parker in ways the eventual tennis coach wouldn't understand until after he graduated.
"I don't think he was a great tennis player, but that's not really part of the criteria," Maddock said about Parker. "Having a passion for what you teach is very important."
That passion, what Maddock had and what Parker would soon discover, is what prompted the professor-teacher duo to continue working together at Tri-State. Parker signed up for Maddock's classes, which featured long, competitive matches of badminton and other racquet sports, and Maddock instilled the influences of coaches such as Mike Krzyzewski and John Wooden, coaches that he admired, into Parker.
Parker carried that newfound passion with him into his special education job at Central Noble, and through the sport of tennis, he was able to meet then-boys tennis coach Brian Gillespie.
The two zealots chattered about tennis in passing until the day came when Gillespie began to grow his family and had a child on the way. He decided to resign from his coaching position in 2007, which left it open for Parker.
"It made it so much easier to stop coaching because I felt like I was turning the boys' program over to someone who was going to work hard at it and really enjoy it," Gillespie said. " I think I might have surprised him one day when I asked him if he was interested in taking over the program."
Parker "freaked out" when the position was opened up to him, he said. He had no experience coaching tennis, and he would inherit a team that just graduated 14 of its 22 players. Not to mention he would be further guiding a program that his friend Gillespie had been building for a decade before him.
The odds of the program crumbling in his hands were high, so he turned to Maddock. The first summer after he took the job, he attended a Tri-State summer camp, where he took endless notes on how Maddock handled his team.
The mentor showed Parker how to conduct five-minute drills, beginning with situational training with doubles teams, and provided a template for Parker to keep his players active during practice.
"It's like basketball, where if you want to be a basketball coach, then go study all the basketball coaches in the world," Maddock said. "If you want to be a great tennis coach, go study the great tennis coaches in the world."
That's what Parker did. He read through several basic tennis books and searched countless articles and videos online to help learn how to coach technique to new tennis players.
It was just enough to keep the boys program afloat at Central Noble, even if it only won a couple matches in his first season. He built a base for his players to learn the game, and eventually, Parker took on the girls' program as well. For four seasons, he coached both programs and remained a student of the game until he led the girls to their first-ever sectional title in 2017, his ninth year coaching tennis.
After 10 years with the boys' program, he decided to focus on the girls' team, and in his first season with just the girls, he led them to more success, winning a second straight sectional title.
He coached his three singles players, Erika Maneke, Ellie Cole and Maggie Kaiser, through their senior seasons, helping them end their tenures with All-Northeast Corner Conference honors and pushing Maneke to the individual sectional final. He also introduced two first-time players — senior Paige Skinner and junior Macy Griffis — to the sport and coached them through two doubles teams. After not winning a conference match in the regular season, Griffis' No. 1 doubles team improved to win a sectional championship matchup against Westview in the postseason.
"I never thought I'd ever coach tennis, for one thing, but I never thought that I would ever coach girls either," Parker said. "I told the girls at the awards a couple weeks ago that it was probably one of the best decisions that I've ever made."
Even though Parker will lose the strongest part of his team — his three singles players — to graduation, he said he's already had a few girls contact him with interest in playing next season. Even so, at a school the size of Central Noble, Gillespie said, sports can go through cycles of "down years" before they peak into sectional titles again.
But, Gillespie said, the most important benefit Parker continues to provide for the girls' program is longevity as the head coach, which doesn't come as a surprise to Maddock.
"There's players and there's teachers," Maddock said. "A player could be a good player, but that doesn't mean that player would be a good coach. To be a coach, you have to think outside of yourself and be a student, and I think Brad is good at that."
Photo: Central Noble girls tennis coach Brad Parker, a 2006 Trine University alumnus, discusses the No. 1 doubles sectional championship match with his team at West Noble last month. Parker led his program to its second consecutive sectional title. (Photo by Taylor Lehman)
Story and photo courtesy of KPC Media Group