Balancing act: Kaminsky manages racing career along with school and hockey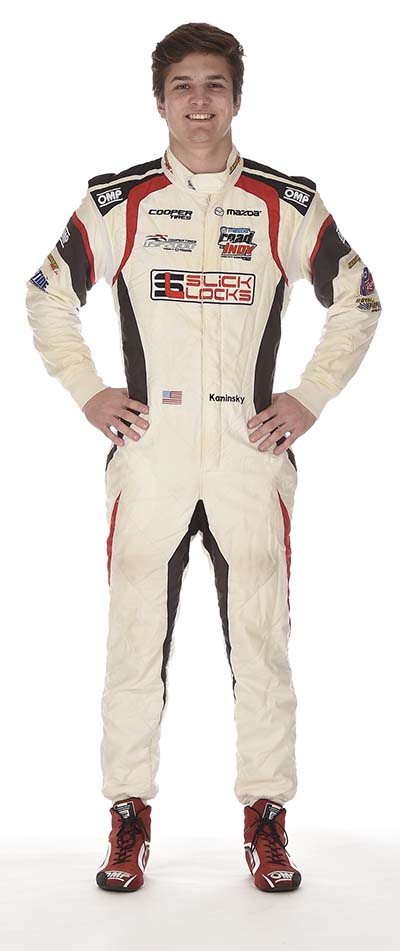 Like most college students, Colin Kaminsky's life is a balancing act.
But unlike most students, the Trine University business administration major is balancing a budding racing career with his classes and playing hockey at Trine.
"It has been a challenge at times, but I've been doing it since my junior year of high school," he said. "I have learned some tricks on how to budget my time in order to excel in each field."
A sophomore from Homer Glen, Illinois, Kaminsky has raced for nearly four years. Sponsored by Slick Locks, a locking system for commercial vans, he currently competes in the Cooper Tires USF2000 Championship Powered by Mazda and is tenth is the series' point standings.
USF2000 is the first official step on the Mazda Road to Indy Presented by Cooper Tires.
"My long-term goals in racing are to compete in the Verizon IndyCar Series and to run in the Indianapolis 500," Kaminsky said. "If I can succeed at each rank on the ladder, I can gain enough experience to move up all the way."
His aspirations come despite getting a late start on his racing career.
"Most of my competition has been driving since they were about 5," he said. "It's an uphill battle, but I'm constantly getting better."
While many racers start in go-karts, Kaminsky's passion was sparked by test-driving a formula Mazda open wheel car owned by his father, Bob, who heads Kaminsky Racing Inc.
"I was able to test drive one for fun one day, and that got me hooked," he said. "There were unique qualities to motorsports that I've never experienced before in any other sport. The part where I drive over 100mph had something to do with it too!"
After test-driving cars for the summer, Kaminsky made the jump to running Spec Racer Fords in the Sports Car Club of America the following year, 2015.
"Being inexperienced and then racing around 50 to 60 cars every weekend was challenging," he said. "But with time I gained knowledge and experience to raise my level of competition to where I was winning races."
Though relatively short, his racing career has included several highlights:
his first club win last year in the SCCA;
starting his first professional race in the USF2000 series at the Grand Prix of St. Petersburg in 2017;
a fifth-place finish in the 2017 SCCA national championship at the Indianapolis Motor Speedway in the Spec Racer Ford series; and,
a fourth-place finish at Road America in the USF2000 series.
Kaminsky said he has to keep on top of his schedule to balance his racing career with classes and duties as a goalie with Trine's ACHA Division 3 men's hockey team.
"I plan out my days weeks and weeks in advance to be more prepared for everything that comes my way," he said.