Class of 2018 encouraged to 'think big'
With more than 6,000 in attendance to celebrate their accomplishments, members of the Trine University Class of 2018 were urged to "think big" by commencement speaker Benjamin S. Carson Sr., M.D., Secretary of the U.S. Department of Housing and Urban Development.
About 660 graduates out of a class of more than 900 participated in the university's 133rd commencement ceremony, held Saturday, May 5, in the Keith E. Busse/Steel Dynamics Inc. Athletic and Recreation Center.
Carson said he considered it a great honor to be forever linked to the Trine University through the honorary degree he was presented. He told the graduating seniors that struggles lie ahead in their lives, and it is important for them decide now how to deal with them.
"The only way really to do that is to decide, right here and now, that you can handle anything life throws at you, and you will carry with perspective, determination and faith what is needed to achieve full freedom and lasting success," he said.
He also said to resist pressure to give up, sharing that an academic advisor had told him to drop out of medical school after he performed badly on his first set of comprehensive exams. After examining his learning style, Carson was able to turn his performance around by focusing more on gaining knowledge through reading.
"There are so many people who are just negative, negative, negative," he said. "They can always tell you why something can't work, but they never seem to be able to tell you why things can work. Please don't be one of those people. You all are going to have significant spheres of influence, and using those in a positive way will make a tremendous difference for our nation."
Carson then shared his philosophy for life, which he summed up in the acronym "THiNK BIG":
Talent, which he said, "God gave to every single person. Not just the ability to sing and dance, but intellectual talent, which will be the key to our success as a nation."
Honesty. "Lead a clean and honest life," he urged graduates, "because if you don't put skeletons in the closet, they can't come back out to haunt you later."
Nice. Carson said it's essential to recognize that being nice allows people to work together. "My generation has failed, and we have got to change course," he said. "No nation that divides itself has ever been successful and never will be successful, and it will be you and your generation that will determine the fate of our nation."
Knowledge. "The more knowledge you have, the more valuable you become," he said.
Books, which he said are "the mechanism for obtaining that knowledge."
In-depth learning. "Having knowledge that is deep really gives you a lot of freedom as opposed to the superficial learners," he said.
God. "We need to make it perfectly clear that it's okay to live by godly principles of loving your fellow man, caring about your neighbor and developing your God-given talents to the utmost so that you become valuable to the people around you," he said. "If you do that, not only will we remain a great nation, but we will truly have one nation, under God, indivisible, with liberty and justice for all."
After the graduates were awarded their diplomas, Lucy Sare, recipient of the Robert B. Stewart Award for the Class of 2018, urged her classmates to avoid falling into the trap of becoming fixated on achievement, or getting "caught in a routine waiting for the next life-changing moment."
"If we continue to measure our happiness based on our accomplishments, we are going to be disappointed a lot. And if we sit around waiting for happiness to find us, it won't," she said. "Happiness is something that must be created separate from our goals and standards."
She shared three hopes for the Class of 2018: that graduates not get distracted from the joys of the present day, that they remain resilient when they encounter struggles, and that they look for opportunities to show love and care for others.
"To finish off my hopes for us as graduates, I hope we remain happy," she said. "Not through checking off our checklist of accomplishments but through being present, being resilient and loving other people."
In his closing remarks, Trine University President Earl D. Brooks II, Ph.D., told graduates they are now faced "with the awesome responsibility of making choices that will determine the person you are to become."
"Make those choices wisely," he encouraged. "Continue to listen to the counsel of those whose lives illustrate success and harmony with humanity and the world around you. Conversely, don't be afraid to stand alone. Believe in what you've cultivated in yourself, your ideals, your standards and your innate feelings of right and wrong, good and bad. Take charge of yourself and build your own successes."
Photos by Dean Orewiler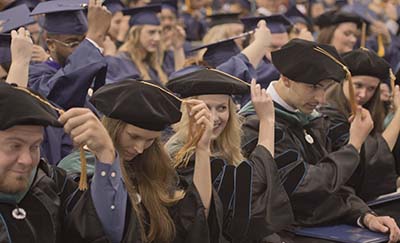 Trine University graduates turn their tassels, signifying the completion of their degrees.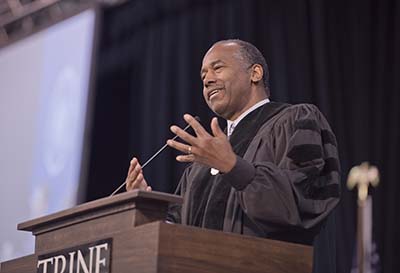 Benjamin Carson, M.D., Secretary of the U.S. Department of Housing and Urban Development, gestures as he speaks during Trine University's commencement.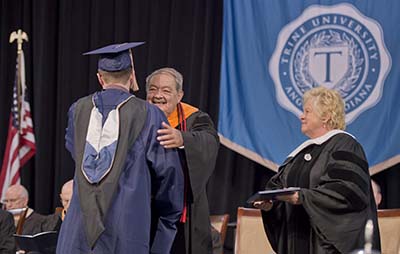 Alec Trine is congratulated by his grandparents, Drs. Ralph D. and Sheri G. Trine, upon receiving his Master of Business Administration degree during Trine University commencement.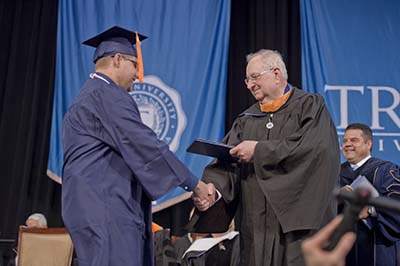 Austin Gurley receives his civil engineering degree from his grandfather, Larry Reiners.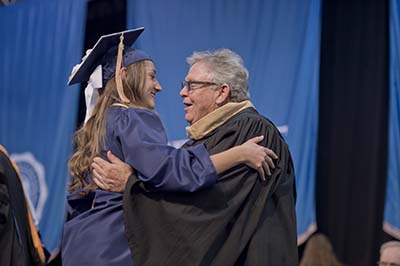 Christina Brinkmann gets a hug from her family friend, Cliff Ryan, after receiving her degree.