Education students test STEM skills with egg drop
Trine University students from the Franks School of Education enrolled in the Math and Science Methods course participated in an Egg Drop Challenge on Tuesday, Oct. 9, from the windows of Shambaugh Hall.
The students have been discussing the importance of integrated STEM (science, technology, engineering and mathematic) into the classroom to enhance inquiry skills, literacy, language and math.
Using the scientific method, students were charged with designing and testing a prototype that would safely transport a raw egg to the ground, when dropped out of a two-story window (approximately 15.5 feet), without cracking the egg.
Students were able to use a variety of materials provided by Ashley Overton, Ph.D., assistant professor in the Franks School of Education, who teaches the class. After sketching and explaining their design, students were able to build and test their prototypes.
"It is important that our education students know and understand that STEM can be integrated into any classroom," said Overton. "An egg drop is one of the many ways to make that happen!"
Top photo: Blythe Nelis, third from right, looks anxiously after releasing her egg transport device. Students pictured are, from left, Sierra Minnix, Madison Ewing, Dawn Gram, Nelis, Alex Kirkingburg and Savannah Harrison. All students in the class are senior elementary education majors. (Photo by Debbie Richard)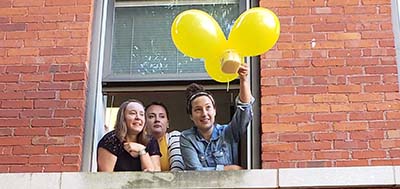 From left, Sierra Minnix, Kaylie Lumbert and Madison Ewing. (Photo by Ashley Overton, Ph.D.)

From left, Sierra Minnix, Madison Ewing, Kaylie Lumbert and Savannah Harrison. (Photo by Debbie Richard)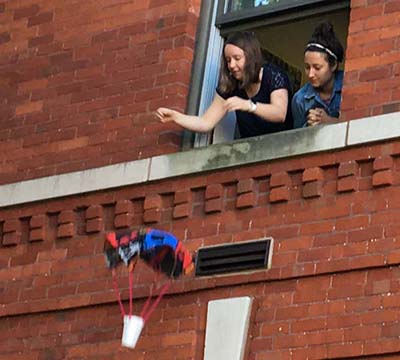 Sierra Minnix, left, and Madison Ewing watch as a device transports a raw egg to the ground. (Photo by Debbie Richard)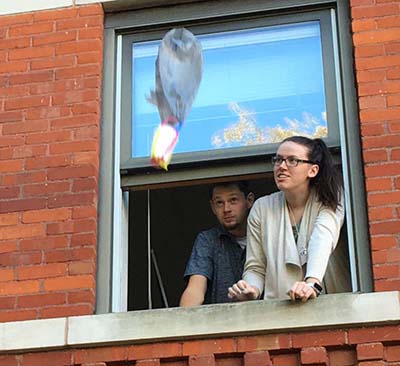 Alex Kirkingburg, left, and Savannah Harrison. (Photo by Debbie Richard)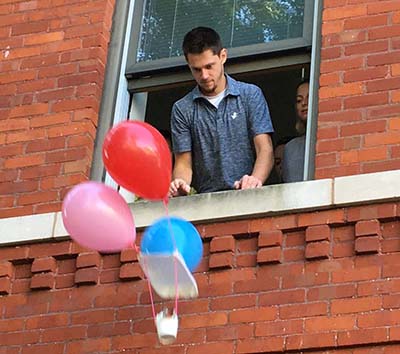 Alex Kirkingburg releases his egg transport device. (Photo by Debbie Richard)