Galloway honored as outstanding student by FEI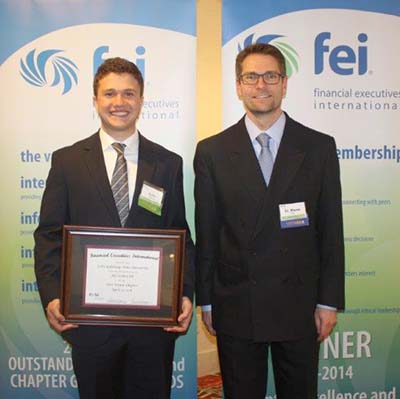 Colin Galloway, a Trine University senior from Reading, Michigan, majoring in accounting, received an outstanding student award from the Fort Wayne chapter of Financial Executives International (FEI) during its annual Student Recognition Night on April 23.
Galloway was nominated by faculty in Trine's Ketner School of Business based on his demonstrated excellence in accounting and finance through his classes and internship, and also based on his leadership potential. The chapter then confirmed him for the award.
A leading advocate for corporate financial management, Financial Executives International serves more than 10,000 members in policy-making positions such as chief financial officer, treasurer and controller at companies from every major industry.
Photo: Colin Galloway, left, and Marek Kolar, Ph.D., associate professor in the Ketner School of Business, at the Financial Executives International (FEI) Student Recognition Night.