Far from stubborn: Trine mule car's flexibility gives it new mission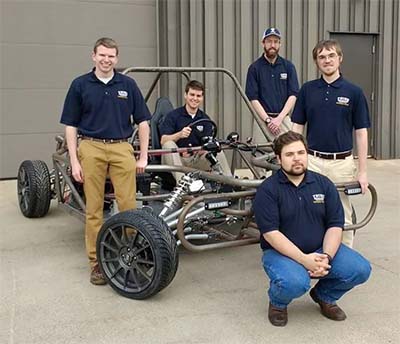 Though its name is far from glamourous, a "mule car" developed as a senior design project at Trine University is proving useful well beyond its original purpose.
It even recently got some screen time.
Designed for Columbus, Indiana-based LHP Engineering Solutions, the project began when Dave Glass, a 1990 alumnus who is CEO of LHP, contacted Jason Blume, executive director of Innovation One at Trine about developing a vehicle that could be used and replicated for the company's LHPU training program, which gives recent college graduates six to eight weeks of hands-on training with engine controls and autonomous vehicles to bring them up to speed as engineers.
"I originally worked with Jason to initiate the senior project as a way to work with Trine to get a test vehicle or mule car developed that would allow us to conduct research and training in advanced driver-assistance systems technology and autonomous vehicles," said Glass.
The car was completed in 2017 by then-seniors Ryker Bonte, Devin Gingerich, Blake Gurzynski, Kyle Roskowski and Cory Sank, with Pavan Karra, Ph.D., associate professor in the Wade Department of Mechanical and Aerospace Engineering, serving as faculty advisor. Using readily available parts, the team designed an original, tube-frame vehicle with remote controls for steering, brakes and engine systems.
However, as the project progressed, LHP discovered an electrified autonomous go-kart that was more cost-effective for LHPU training. So when Trine's mule car arrived, LHP gave it a new purpose.
"We decided to use it for another training initiative around embedded cyber security for autonomous vehicles and as a marketing demo for NI Week," said Glass.
Sponsored by Austin, Texas-based National Instruments, NI Week is an annual event that draws thousands of engineers, scientists and industry professionals to learn about the company's latest products for test, measurement and control systems. For this year's NI Week, the mule car was outfitted with two gateway controls – one monitoring and controlling the vehicle systems and the other attempting to hack into them.
"After coordinating our idea with NI, we were invited to display the vehicle in the center of their Automotive Pavilion, which was a perfect way to draw attention to the test platform and share LHP's capability around functional safety and cyber security," Glass said.
The vehicle and its associated technology were highlighted in a feature by Austin TV station KXAN about NI Week.
"It turned out to be a great show for us, generating a number of leads and building on our relationship with NI as a technology partner," said Glass.
Glass said LHP is planning to display the mule car at other trade shows and at next year's NI Week, with an even more enhanced cyber security platform. In the meantime, the car will be used as a pilot for another project LHP is working on, co-sponsored by the state of Indiana.
"That project is a semi-autonomous towing vehicle that will track the Trine mule car through optical frequency communication, or LiFi," said Glass.
The semi-autonomous towing vehicle, Glass explained, is a driverless towing vehicle that would track and automatically follow a vehicle with a driver. Drivers of small vehicles such as a Mini Cooper could be followed by a vehicle towing a camper or a U-Haul trailer. Or shipping companies could have multiple towed trailers following one driver.
"It's an autonomous vehicle application that is brand-new," said Glass.
Glass, whose son, Caleb, is a mechanical engineering major at Trine, said he hopes to work with the university on additional design projects.
"I really appreciate the engineering support from Trine and the opportunity we had to sponsor a senior project," he said.
Photo: Back, from left, then-seniors Cory Sank, Kyle Roskowski, Ryker Bonte, Devin Gingerich and front, Blake Gurzynski, pose in 2017 with the vehicle they developed as a senior design project for LHP Engineering Solutions.