Trine alumni leading Prairie Heights athletics, basketball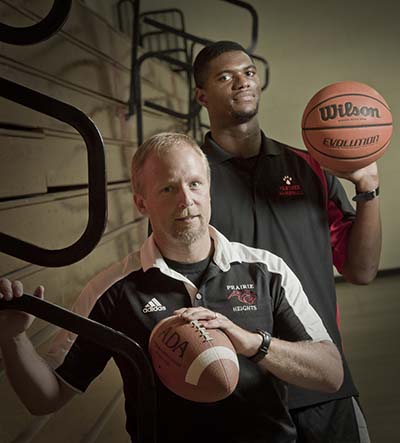 If the next version of the Prairie Heights panther is white with black stripes, everyone will know why.
Though the high school is unlikely to trade its mascot for Trine University's Storm, its athletics will definitely show some Trine influence beginning this next year.
In June, the school corporation's board hired Brent Byler, a 2000 science education graduate, as athletic director and Todd Watkins, a 2017 exercise science graduate, as head boys basketball coach.
Byler was a three-sport athlete at Prairie Heights before attending what was then Tri-State University and playing baseball for three years. He opted not to play his senior year due to student teaching responsibilities at Lakeland High School, instead serving as assistant girls tennis coach while at Lakeland.
He served as a high school teacher and coach over the past 17 years, and said his passion for sports and working with student-athletes led him to apply for the athletic direction position.
"Over my career, my passion for leadership grew much stronger: not only how to teach young athletes to be leaders, but how to become a better leader as a coach," he said.
A 6-foot-7 forward who served as team captain for Trine's basketball team during the 2013-14 season, Watkins said he was drawn to the Prairie Heights community after working with athletes from Angola, LaGrange and Hamilton for nearly five years. He also served as an assistant men's basketball coach at Trine for three seasons.
He hopes to bring a sense of tradition, pride and sustained success to Prairie Heights basketball.
"I don't care whether we have the most talented team or player(s) on the court. I want the hardest workers and the best listeners," he said. "It's on us as coaches and faculty members to help build them as young adults and give them the tools and knowledge it takes to be successful in this world."
Though they graduated from Trine at different times, both Byler and Watkins said they are looking forward to working with another alumnus.
"I have the highest level of confidence in the products our university turns out," Byler said. "I have found all the teachers in training I have worked with throughout the last 17 years from Tri-State and Trine to be dedicated, passionate, hard-working, knowledgeable and determined individuals. Todd is also exceptional in all of those areas."
"I know we share the same values as well as pride for our alma mater," said Watkins. "I know he holds a tremendous amount of respect for people and coaches who are active in the community and with youth, as do I."
Both also said their time at Trine has prepared them well for the new roles that are taking on.
"My education at Tri-State helped me build a solid foundation of content knowledge that helped me plan and implement lessons in the classroom," said Byler. "Even more importantly, the professors at Tri-State taught me invaluable lessons in communication and organization skills that I have continued to employ as a teacher, and now as an administrator."
"Playing at Trine taught me the true meaning and physical definition of hard work," said Watkins. "We had a saying at Trine when I played and it was 'FTTB,' which was short for 'from the tip to the buzzer.' That's how hard we would work, whether in games or practices.
"Coaching at Trine taught me structure and how to apply it to game plans, practice plans, drills, etc. Everything was planned out, from the length of the drill to the teams that were going against each other in five-on-five. Those same concepts were then applied to the games ahead."
Photo: Brent Byler, a 2000 science education graduate, front, has been hired as athletic director at Prairie Heights High School, and Todd Watkins, a 2017 exercise science graduate, has been hired as head boys basketball coach. (Photo by Dean Orewiler)