Trine students, staff read for Read Across America
Trine University students and staff read at elementary schools across the MSD of Steuben County as well as at Prairie Heights Elementary School for the annual Read Across America celebration on Friday, March 2. The university also donated Dr. Seuss books to the schools.
Sponsored by the National Education Association, Read Across America has been held each year on March 2, the birthday of Theodor Seuss Geisel (Dr. Seuss), since 1998.
More photos are available on SmugMug.
Top photo: Shea Sims, cheer and dance coach at Trine University, reads to a class at Prairie Heights Elementary School.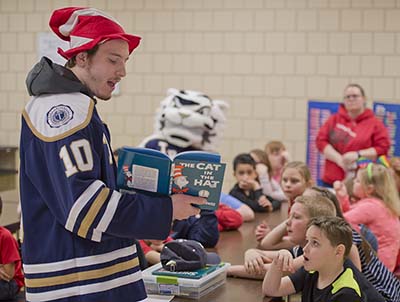 Trine University student and NCAA hockey team member Alex Johanson, a freshman from Skokie, Illinois, reads to a second-grade class at Prairie Heights Elementary School. Photo by Dean Orewiler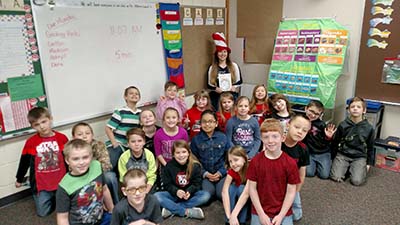 Sophomore Kendra Perkins poses with the Prairie Heights Elementary School class where she read.