Trine Day raises more than $83,000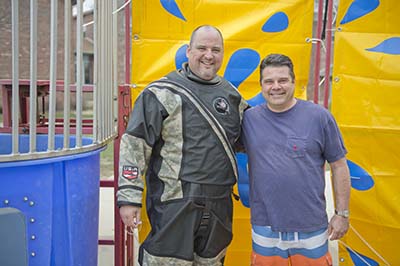 On April 13, the Trine community came together with one mission: to celebrate Trine Day. This day was filled with campus-wide events, faculty and staff competitions, and social media challenges. The end result was more than $83,000 in gifts contributed by more than 250 donors to help support the Trine Fund and student organizations.
The Dunk Tank Challenge hosted on campus featured seven Trine celebrities, including representatives of academic departments, student life and athletics. Alumni, students, faculty and staff came together to dunk the celebrities more than 60 times, raising nearly $2,500. The 2018 Dunk Tank Champion was Dr. Allen Hersel from academic affairs. Dr. Hersel split his winnings of $1,176 among six academic departments. The remaining earnings from the Trine Dunk Tank Challenge were distributed to another six student organizations as determined by the dunk tank celebrities.
The Trine community also came together to paint the town blue, purchasing Power T's to be placed on the windows of the University Center mall. The brothers of Tau Kappa Epsilon were the winners of the 2018 challenge, and will allocate $900 to an organization of their choosing in addition to claiming the $500 prize for their fraternity. The brothers of Sigma Phi Epsilon and Kappa Sigma Alpha finished a respectable second and third place.
Thank you again to all who were able to support Trine Day 2018 and who came out to celebrate both on campus and on social media. Trine Day 2018 was a major success thanks to the generosity of our alumni, friends, students, parents, faculty and staff.