Study the miracle of life with a biology degree
The Bachelor of Science with a major in biology program at Trine University takes you deep into science and explains its miracles. How can a living organism, composed of the same elements in similar proportions to a piece of rock, think and live, while the rock is inert? The study of biology explains this miracle, taking you beyond merely studying organisms and their environment.
The degree: Classic principles with the latest advancements
In the Bachelor of Science with a major in biology, you'll explore the latest advancements in ecology, microbiology, genetics, pathology and molecular biology, among others. You will receive a broad education in basic areas of biology and then be able to go in-depth into the sub-disciplines of your choice. In all courses, background knowledge will be followed by application to contemporary issues and problems.
The experience: State-of-the-art technology and research opportunities
Our program uses new technology to train you. From recombinant DNA techniques in gene cloning and chromosomal genetics to virtual dissections of digitized cadavers, you will use cutting-edge equipment in our laboratories. As a senior, you will participate in a research project and may partner with local companies, organizations and/or research laboratories.
The result: Work or research in the public and private sectors
A degree in biology prepares you for work in government and industry, such as pharmaceutical sales, teaching, environmental management and conservation, forensic science, and research. It is a valuable foundation for graduate programs in all pre-health fields (medicine, dental, physician assistant, etc.) and in other sub-specialties such as veterinary medicine, genetics, conservation, and marine biology.
Testing the waters: Trine group checking Steuben County streams
November 20, 2023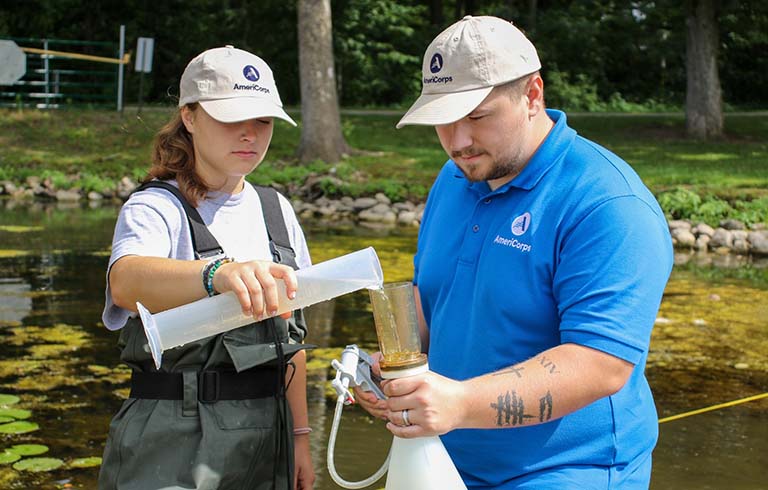 In the "home of 101 lakes," water quality is vital for tourism as well as basic needs.
A research project conducted by Trine University students and faculty hopes to determine ways to improve the quality of Steuben County's surface water.
Trine biology majors Jordan Derouin, from Angola, Indiana, and Lia Franzone, from Lancaster, New York, conducted research with Drerup throughout the summer and have continued through the fall.
The group tests 10 stream sites within Steuben County each week, checking for E. coli, nitrogen, phosphorus and total suspended solids.
Wetland Initiative Internship
The Wetlands Initiative is a conservation organization based in Chicago, Illinois. The internship may involve any aspect of conservation, particularly restoration of native communities.
Internship duties may include nuisance species control or removal, propagation of common or rare species, including seed collection, greenhouse production, a field installation, data collection on various research projects, or any other activities as necessary. Most projects are relatively large, usually hundreds to thousands of acres. Supervision is mainly done by William Sluis, Ph.D., Trine University.
Past Internships
Many other internships and research opportunities have revolved around lake water quality or environmental quality.
Brandi Kunce Foster, a 2006 graduate, did a summer internship with Pokagon State Park in their wastewater treatment plant.
At Astbury Water Technology,

Natalie Bramel, a 2010 graduate, tested drinking water for contaminants and wastewater for suspended solids and bacteria.
As the ecology director at Camp Chief Little Turtle,

Courtney Daniels

(class of 2012) not only gained experience in her chosen field and confidence in herself, she helped change the lives of over 1,000 boy scouts over the course of the summer internship at the camp.
Other students have done independent research projects with individual professors at Trine.
Bachelor of Science with a major in biology career possibilities
Lab technician (industrial and governmental agencies)
Health safety specialist
Research analyst
Sales/technical support staff member
Health related careers
Education fields
Program Information
Program Feature
Lifetime Guarantee
Campus Location
Angola, IN
School/College