BS Mathematics Education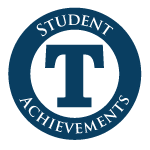 The national demand for math educators in secondary settings continues to grow. According to the U.S. Department of Education, 43 states reported shortages of mathematics teachers for the 2016-17 school year. As a graduate of the Bachelor of science with a major in mathematics education program at Trine University, you will be equipped to meet a critical need and prepared to impact the lives of students as a mathematics educator.
Strong math foundation with field experience
The Bachelor of science with a major in mathematics education at Trine University includes courses in linear algebra, measurement and geometry, statistics and probability, and calculus. Because state leaders are committed to increasing the number and expertise of secondary teachers in instruction related to STEM (science, technology, engineering and math), the Bachelor of Science with a major in mathematics education program focuses on the interdisciplinary nature of curriculum by designing and implementing classroom learning through multiple instructional strategies.
You will spend over 400 hours in clinical experiences prior to graduation. The Franks School of Education program includes rigorous learning experiences guided by faculty in both the arts and sciences as well as in the school of education.
Be prepared for your teaching career
In 2017, 100 percent of superintendents and principals surveyed indicated that Franks School of Education graduates were more prepared as first-year teachers compared to other college. Graduates from the Franks School of Education have a high level of job placement, with 100% of graduates employed or in graduate school over the past four years. In addition to classroom teaching, students have obtained other educationally related positions, and still others go on to complete master's degrees. Feedback from school administrators consistently refers to how well the Trine University teacher education graduates are prepared to begin teaching from day one in the classroom and how effective these teachers are far beyond graduation.

Special education licensure
Trine University offers special education licensure programs for preschool through 12th grade, allowing certain secondary education programs to add special education licensure to an existing content area within their four-year degree program at Trine. If you are interested in pursuing special education licensure, talk to your faculty advisor.