Trine University Alerts
2-12-2019 - Trine University will reopen today at 11:00 am — not at 10:00 as was previously communicated. We are taking the extra hour to make sure our sidewalks and parking lots are as safe as possible. However, it is important to note that there still will be slippery sections throughout campus. As always, you are reminded to take extra care when approaching and traversing the campus, and please use your best judgment in determining if you can safely make your way to campus. Safety is always our highest priority.
2-12-2019 - Trine University is operating on a two-hour delay and will reopen at 10:00 am. Classes starting at 8:00 and 10:30 am are cancelled.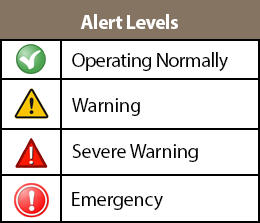 Trine uses a variety of methods to communicate during emergencies, including building alarms and an alert system that sends texts and phone messages to users. Trine participates in the RAVE emergency notification system for employees and students. To sign up, go to RAVE, choose "Register" and follow the directions.
In an emergency that requires immediate help from police, fire fighters or medical technicians, call 911.
Trine University emergency preparedness procedures
Useful Numbers