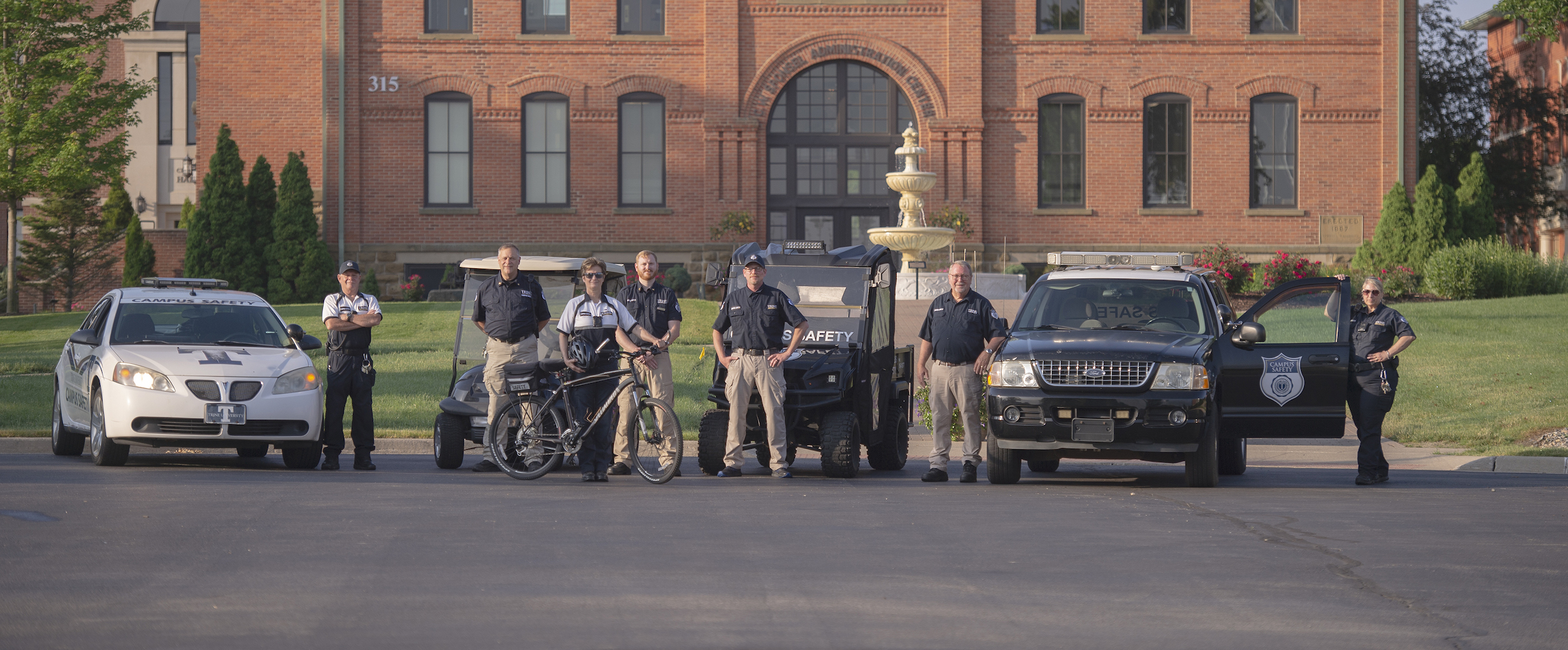 Safety First!
At Trine our job is to provide you with the opportunity to receive a quality education. Our top priority is to keep you safe and protect your life and property. We take pride and great responsibility in doing so. By pro-actively engaging in activities that promote security awareness and crime prevention, we strive to be a safe place to learn, work and live.
Campus Safety encompasses campus protection including first aid, CPR, and emergency response procedures. Our officers are on duty 24 hours a day, 7 days a week, 365 days a year. They are equipped with radios and cell phones, and have immediate communication with students and local emergency services.
Campus safety has also incorporated a mass notification system that alerts students and staff to campus emergencies. Campus Safety is an extension of the Office of Student Affairs.
Contact Campus Safety
260-316-1877
24 hours a day, 7 days a week, 365 days a year.


Trine University utilizes the
Regroup Safety system
Opens in new window
to alert campus of important and emergency notifications. Registrants can choose from text messages, emails or both.
The federal Jeanne Clery Disclosure of Campus Security Policy and Campus Crime Statistics Act and other federal law requires colleges and universities to publish and distribute an annual security and fire safety report containing policies and procedures as well as campus crime statistics.
At Trine, we believe in a zero tolerance policy for sexual misconduct. Members of our community, guests and visitors have the right to be free from sexual violence. All members of the community are expected to conduct themselves in a manner that does not infringe upon the rights of others. Our University Sexual Misconduct/Sexual Assault Policy has been developed to reaffirm these principles and to provide recourse for the individuals whose rights have been violated.
For more information: Title IX Policies and Procedures
The mission of Trine University Safety Team is to provide a safe and secure learning, living, and working environment while protecting the University's valuable assets.
Safety Philosophy
Trine Safety staff acts as facilitator to those in need, helping them to understand and comply with the University's rules, policies and directives. This is achieved through patience, understanding, and guidance, offered in a firm, fair, and respectful manner. Interaction with students, guests, and staff is conducted with respect to personal dignity, and in an unobtrusive, low-key manner.
Provide a safe and secure environment for all members and guests of the Trine community
Maintain a high level of cooperation with local law enforcement agencies
Provide protection and security for all Trine assets
Investigate and implement new techniques and means to contribute to a more efficient and effective operation of the department
Promote the well-being of the University through the enforcement of appropriate state statutes and university policy and regulations
Provide an active risk management program
Assist in the coordination of campus risk awareness programming