Trine University will continue with seated instruction for the Fall Semester beginning August 23, 2021.
Open since 2018, Trine University's Detroit (Michigan) Education Center is located near the Henry Ford Museum, approximately 20 minutes from downtown Detroit and 15 minutes from the Detroit Metropolitan Airport. The site offers international students the opportunity to earn a master's degree through Trine University.
Location:
1000 Republic Drive, Suite 520
Allen Park, Michigan 48101-3636
Enter through Door C
Contact: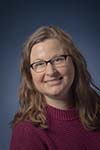 Maria Stroyan
International Admissions Counselor/DSO
Admissions questions?
Email intladmit@trine.edu or call 1.855.667.6237.
Last Updated: 08/02/2022