National security expert Wilhelm speaks at Trine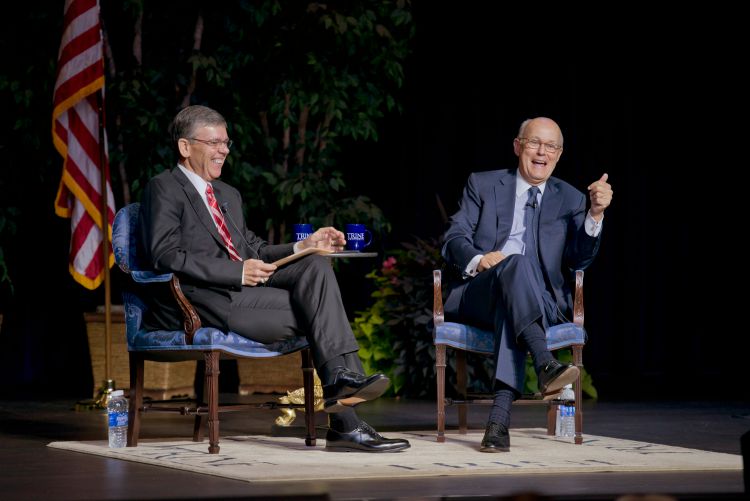 SEPT. 11 -- National security expert Richard J. Wilhelm, senior executive advisor for Booz Allen Hamilton, fielded questions ranging from national security to Edward Snowden to leadership during Trine University's Distinguished Speaker Series this morning.
Students and community members filled the lower level of Ryan Concert Hall and overflowed into the balcony to hear Wilhelm talk with Earl D. Brooks II, Ph.D., Trine president.
Wilhelm previously led business activities supporting U.S. intelligence agencies as an executive vice president at Booz Allen. Prior to joining Booz Allen, Wilhelm spent 29 years with the federal government as a military intelligence officer and civilian appointee. His government career includes a position as executive director for intelligence community affairs during the Clinton administration and service on vice president Al Gore's national security staff.
"America is not always exceptional in its practices but it is exceptional in its promises," Wilhelm said when discussing national security. "Many underestimate America's values ... but you don't see lots of people wanting to emigrate to Russia and China."
Here a few highlights from the discussion:
On the state of national security since the terror attacks Sept. 11, 2001."It's a lot better but so are they," Wilhelm said of terror groups. "They watch us, they're smart, they see what's going on."
The U.S. will never be perfectly secure, but people are more conscientious. ... The Department of Homeland Security was organized and is a typical government response; the 22 agencies within Homeland Security do not always work as smoothly as most would wish. ... The intelligence community is far better and has gotten inside many of these terrorist organizations. ... Terror groups have metastasized with big variety and huge unknowns ... they hide in plain sight.
On the qualities of effective leaders
Leaders should have a desire to be there, be disciplined, have a sense of curiosity and be reasonably warm and personable with an ability to connect with people at all levels.
On Edward Snowden, leaker of U.S. surveillance
Snowden was employed by Booz Allen, the same company Wilhelm serves. "The excessive secrecy ... worked against us and created an opportunity for Snowden," he said. Americans like what they get from surveillance but they might not like what they hear about what goes on behind the scenes, he said.
During his discussion of national security, Wilhelm said engineers interested in the intelligence community "won't find any more challenging or interesting work" than intelligence. "World-class mathematicians make a lot of money ... the key to breaking codes is math; encryption analysis and breaking codes are make problems."
Before Wilhelm spoke, Trine's Air Force ROTC presented the U.S. flag and the University Choir performed "God Bless America" under the direction of Mark Kays. Then, a moment of silence was observed for the anniversary of the Sept. 11, 2001 terror attacks.
Photo: Trine president Earl D. Brooks II, Ph.D., left, and national security expert Richard J. Wilhelm discussed national security, Edward Snowden and the qualities of effective leaders among other topics. Photo by Dean Orewiler, multimedia specialist