Innovation Challenge 2015 winners honored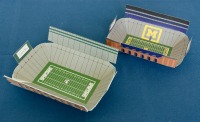 Advancements in business and technology were recognized Saturday at the second annual Trine University Innovation Challenge presented by Fifth Third Bank.
The top winner in the business category was submitted by Luke Summey, a 2014 graduate of Sturgis Public Schools, and his teacher Mickey Schulze. Summey's product, Traydiums, grew from a computer-aided design project that he began with the intention of creating a paper model of the University of Michigan's "Big House." Now a patent-pending LLC, Traydiums are a way for large-scale stadiums and major sports venues to serve food while providing fans with a miniature version of the stadium.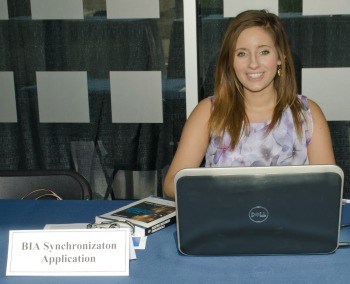 In the technology category, the B.I.A. Synchronization Application from Trine electrical engineering senior Victoria DiFranco of Cooksville, Md., took the top spot. Her submission provides a non-invasive way for wearable health monitors such as the FitBit to measure body fat percentage through the use of a small electrical current.
"I think that this competition continues to grow and it really highlights the caliber of ingenuity and creativity that is in this area and region. I encourage everybody to participate again in the future and I really am looking forward to see where this grows and goes in the future," said Jason Blume, executive director of Innovation One. The Innovation Challenge saw more submissions in its second run, increasing from last year's 25 submissions to 46 submissions this year.
Sue Ellspermann, Indiana lieutenant governor, and John Milner, regional retail manager for Fifth Third Bank Northeast Indiana, were present at the awards ceremony to support and honor the winners.
"Fifth Third Bank has a long history of supporting small business and entrepreneurs, which is why our support of this competition is such a good fit for us. Small business owners are the backbone of a strong economy and our bank understands the value local business owners and entrepreneurs bring to the growth of our economy and communities," Milner said.
Trine students swept the technology category. Second place went to Allison Everetts for My Trainer. The senior exercise science major from Kokomo developed an app that connects trainers with clients, instead of simply trying to replace the trainers.
Third place went to Allyson Ross, a junior mechanical engineering major from Akron, Ind., for Phone Ribbon, a protective cover for cell phones designed to prevent radiation from being transferred to the body.
Trine students also claimed the other two spots in the business category. Job Scholar, developed by a team of six Trine students, is an online labor network designed for college communities. Third place went to Nathan Grigsby for his 3D Insurance plan that rents 3D printers from manufacturing suppliers to save time and money. Grigsby is a senior design engineering technology major from Royal Center, Ind.
The Job Scholar team includes:
Aaron Wolf, a senior accounting major from Huntington;
Alison Kubiak, junior, management, Dyer;
Jake Bagley, senior, business administration, Van Wert, Ohio;
Joshua Valadez, senior, management, Brownsburg;
Phillip Standeford, senior, management, Shelbyville;
Trey Calver, junior, finance, Shelby, Ohio.
The award for the top high school submission went to Alyssa Claymiller and Caleb Henry for their Enhanced Security System. Inconspicuous and form fitting against entry walls, the system features doors that close after an individual enters and then a scan is performed. If something is detected, the doors will not open until further inspection. Claymiller and Henry are seniors at East Noble High School.
Other winners include Jacob Holguin's Clean Up Crew in the university category and Chante Hurraw's Paper Plane in the community category. Clean Up Crew, by Holguin, a Trine sophomore marketing major from Cypress, Texas, is a paid service to clean up after an event or party has taken place. Paper Plane is a nonprofit venture to assist children in raising money and awareness to established 501c3 organizations. Chante, of Hamilton, Ind., has raised money for Hero Flight by rewarding donors with paper planes he folds himself.
During the awards ceremony, Ben Clark, CEO of Gifts Utopia, last year's winner in the business category, updated the audience on his company's progress.
"It's been a slow and grueling process, but that's what entrepreneurship is. It's a long and grueling process to sacrifice what you want now for where you can be. We're actually within a couple weeks of launching and it's exciting because my future is now going to be realized," said Clark, a 2014 Trine University business administration graduate. "The Innovation Challenge gave us the opportunity and the validation that I think we needed to show that we actually have a viable concept that can grow into a business." Gifts Utopia is an online gift selection and buying service for busy individuals.
"He has leveraged his Innovation Challenge success and prize money into a working business for which he now works full time. As time goes on we hope we will see more examples of successes just like his," Milner said.
About Fifth Third Bank
Fifth Third Bancorp is a diversified financial services company headquartered in Cincinnati, Ohio. The Company has $134 billion in assets and operates 15 affiliates with 1,308 full-service Banking Centers, including 102 Bank Mart® locations, most open seven days a week, inside select grocery stores and 2,639 ATMs in Ohio, Kentucky, Indiana, Michigan, Illinois, Florida, Tennessee, West Virginia, Pennsylvania, Missouri, Georgia and North Carolina. Fifth Third operates four main businesses: Commercial Banking, Branch Banking, Consumer Lending, and Investment Advisors. Fifth Third also has a 22.8% interest in Vantiv Holding, LLC. Fifth Third is among the largest money managers in the Midwest and, as of September 30, 2014, had $303 billion in assets under care, of which it managed $26 billion for individuals, corporations and not-for-profit organizations. Investor information and press releases can be viewed at www.53.com. Fifth Third's common stock is traded on the NASDAQ® Global Select Market under the symbol "FITB." Fifth Third Bank was established in 1858. Member FDIC. Subject to credit review and approval.
Top Photo: Luke Summer, from left, and Mickey Schulze tell Lt. Gov. Ellspermann about Traydium and how the concept was born. Middle: A detailed look at Traydiums for Michigan State University and University of Michigan. Bottom: Victoria DiFranco is ready to tell about her wearable monitor that measures body fat.