DPT students, faculty member present research at national biomechanics meeting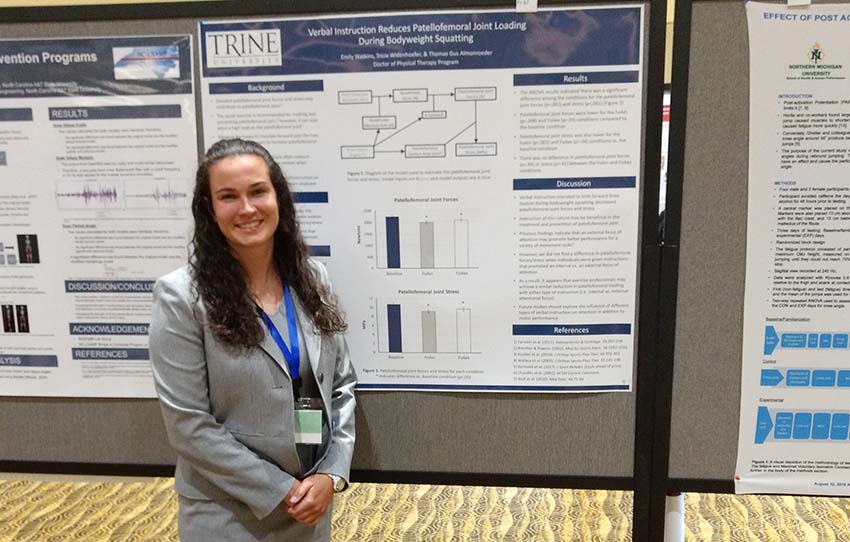 Trine University assistant professor Thomas (Gus) Almonroeder, DPT, Ph.D., and Trine Doctor of Physical Therapy students Emily Watkins and Taylor Miller presented research findings at the American Society of Biomechanics 42nd Annual Meeting on Aug. 10 at the Mayo Clinic in Rochester, Minnesota.
Each project received positive feedback from conference attendees and abstract reviewers.
Watkins presented a poster titled, "Verbal Instruction Reduces Patellofemoral Joint Loading during Bodyweight Squatting." The study found that providing individuals with verbal instruction to change their technique while squatting significantly lowered the forces acting on the knee joint. This work may be beneficial in the treatment or prevention of knee pain, which appears to result from excessive loading.
Tricia Widenhoefer, PT, MS, CBIS, director of clinical education, also contributed to the project. Almonroeder, Widenhoefer and Watkins have written a manuscript describing their findings that is currently being reviewed for publication.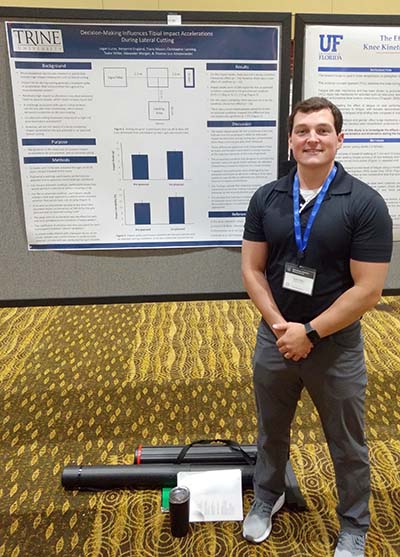 Miller presented a poster titled, "Decision-Making Influences Tibial Impact Accelerations during Lateral Cutting." The study compared athletes' movement patterns during pre-planned and unplanned sports maneuvers. For the pre-planned condition, the athletes knew the maneuver to perform before imitating a trial, allowing them to pre-plan. For the unplanned condition, the athletes initiated their movement and then reacted to a visual signal that dictated the maneuver they should perform, limiting their ability to pre-plan.
The athletes demonstrated mechanics that may place them at greater risk for injury for the unplanned trials. As a result, it appears that the inability to pre-plan movements in sports may contribute to an athlete's risk of injury. This project also relied on contributions from Almonroeder and Trine students Logan Lucas, Ben England, Travis Mason and Chris Lanning. A paper describing the findings has been accepted for publication in the Journal of Applied Biomechanics.
"The opportunity to represent our newly established research lab, our DPT program and Trine University as a whole at this conference was a tremendous honor," Miller said. "Our DPT faculty does a fantastic job at providing Trine's DPT students with opportunities to promote ourselves and our work, as well as our program. Our research mentor, Dr. Almonroeder, has provided many research opportunities, which ultimately has given us a platform to better ourselves inside the clinic as well as within our profession as a whole. Having the opportunity to be surrounded by some of the leading minds within the field of biomechanics at the world-renowned Mayo Clinic was a great experience that I definitely took a lot away from!"
The American Society of Biomechanics, founded in 1977, serves about 850 academic researchers, clinicians, scientists, students and industry members working to solve basic and applied problems in biomechanics and working to improve understanding of the workings of biological systems.