East Noble Pathways students visit campus
Students in East Noble High School's Engineering Pathways program visited the Trine University campus on Monday, May 7.
During the annual program, East Noble underclassmen are exposed to various career pathways while seniors take part in senior interviews.
At top, Jason Blume, executive director of Innovation One at Trine University, explains to East Noble High School students about the foundry process in the Foundry Lab inside the Jim and Joan Bock for Innovation and Biomedical Engineering.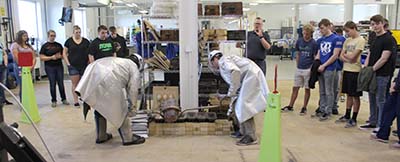 Tim Tew, left, an East Noble High School senior, and Elias Kapsalis, a Trine University student from Fishers, Indiana, majoring in design engineering technology, pour molten aluminum in the Foundry Lab.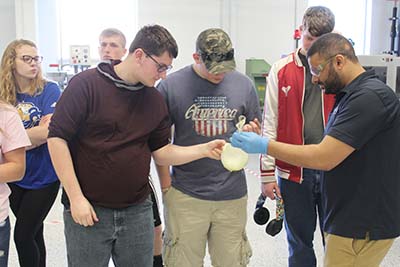 Jeffrey Raymond, lab technician for Trine University's McKetta Department of Chemical and Bioprocess Engineering, lets East Noble High School students Gabe Oaks, left, and Ethan Rayle feel the heat given off by a chemical reaction.