MSO donates presents to local family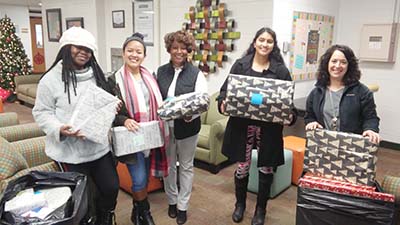 Trine University's Multicultural Student Organization delivered presents it had collected for a local family in need on Friday, Dec. 14.
The organization collected more than 25 presents for a mother and four children at Carlin Park Elementary School in Angola.
In the top photo, from left, Sybil Kurian, a sophomore from Elkhart, Indiana; Pauline Odambo, a junior from Nairobi, Kenya; and Deb McHenry, executive director of student success and retention, load the presents into a van for delivery. In the photo at right, Odambo, Yancy Paola Hansford Bejarano, a junior from Honduras who is president of the Multicultural Student Organization, McHenry and Kurian give the presents to Molly Floyd, principal at Carlin Park.