A night full of surprises celebrates Trine and its supporters
While Trine University's annual Touchstone and Homecoming Celebration Dinner always includes some surprises, this year's event had more than usual.
In addition to the regular Pillar of Success and Woman of Distinction awards, whose recipients are not informed in advance, the evening saw Indiana Gov. Eric Holcomb surprised with an honorary Doctor of Humane Letters degree from Trine. Later, Holcomb was able to turn the tables by surprising Trine President Earl D. Brooks II, Ph.D., with the Sagamore of the Wabash Award.
Trine University welcomed more than 500 guests to the elegantly decorated Keith E. Busse/Steel Dynamics Inc. Athletic and Recreation Center on Oct. 5 for the event.
Holcomb received the honorary degree as he was recognized on behalf of the State of Indiana for its financial support of the Thunder Ice Area and MTI Center through the Regional Cities initiative.
In presenting Holcomb for the honor, Dr. Rick L. James, chair of the Trine University Board of Trustees, noted, "Gov. Holcomb has led the way for the largest long-term infrastructure project in our state's history with the 20-year Next Level Roads program, as well as the Next Level Jobs program to help get Hoosiers into high-demand, high-wage jobs."
In response, Holcomb praised all that Trine University provides for Indiana.
"Trine contributes so much to our state, and probably, most importantly, contributes so much to the people of our state and others we're attracting here," he said. "I love travelling the world sharing Indiana's success story, and that includes Trine University's role. When a business is thinking about investing in the State of Indiana. they know that they have right in their backyard this talent pipeline that will ensure their success. This Regional Cities Initiative grant was, quite honestly, one of the easiest decisions we will ever make because of what you were already doing here and what you continue to bring to the table."
Following the donor recognition portion of the program, the university presented its annual alumni awards and inducted the Class of 2018 into Trine's Athletic Hall of Fame. The university then honored longtime faculty and academic staff member Jean Deller, Ph.D., with the Woman of Distinction award.
Deller began teaching in Tri-State University's Department of Education in 1980, after moving with her husband to Steuben County in 1976. Throughout her time at Trine, she held countless positions in the university's education, athletic and administrative departments while continuing to instruct courses in the education department. She was named faculty emeritus this past summer after retiring in June as assistant vice president for academics.
"For almost 38 years, Dr. Jean Deller spent giving service to this university and truly exemplified the ideal team member, supporting team decisions and being open-minded to new developments," said Brooks. "She was fiercely dedicated and greatly supportive of the mission and vision of the university."
The university then presented Angola Mayor Richard Hickman with its Pillar of Success award. Brooks praised Hickman as "a man who takes great pride in his community," saying the mayor has led numerous initiatives to improve the quality of life and place of the city and region.
"From improving the look and vitality of our area, as well as attracting and retaining businesses and jobs, Mayor Richard Hickman has been a guiding force for the City of Angola," he said.
He also noted that Hickman and his leadership team have become valuable partners to Trine University and have been instrumental in projects such as the Thunder Ice Arena.
"The assistance and public support given by Mayor Richard Hickman, the Angola City Council, and numerous city department heads and employees were vital to the success of this endeavor as well as the $150 million expansion of our campus over the past 15 years," Brooks said.
Saying he "definitely" was not expecting the honor, Hickman responded, "I'm the luckiest guy in the world. I married way out of my league and we've got city employees who make me look good. On behalf of all our city employees and the citizens of this community, I accept this award and appreciate it very much."
Following that presentation Brooks invited master of ceremonies John Milliken back to the podium to give closing remarks, but Milliken instead welcomed James back to the stage.
Noting that Trine University "has experienced transformational growth over the last decade, with record enrollment, sound finances, healthy fundraising, and a career placement rate of 99 percent," James thanked those who have supported the university's Invest in Excellence capital campaign as well as Trine University trustees, Brooks, university leadership, and faculty and staff. He then asked Holcomb to return to the stage.
Calling Brooks an "MVP," Holcomb said in presenting the Sagamore of the Wabash, the highest honor bestowed by the governor of Indiana, that Brooks stands out not only because of various statistics reflecting Trine University's success, but the areas "that can't be boiled down into numbers or statistics or percentages."
"We will never know all the good President Brooks has affected. It would be impossible," Holcomb said. "All the lives that have been improved. All the have nots who have joined the haves, equipped with this education that converted an educational curiosity into the courage to accomplish things that maybe they didn't realize on the first day they set foot on campus."
Addressing Brooks directly, Holcomb said, "You, sir, make me proud to be a Hoosier. Thank you for sharing your gifts with us all."
In response, Brooks said he was "very honored and humbled" and that many people deserved "a significant piece of this award," including his wife Melanie, his family, Trine employees and trustees, and alumni and others who continue to support the vision of the institution.
"I would not be standing here tonight were it not for all of you here in this room and the many alumni across the country who continue to support this university," he said.
Top photo: From left, Indiana Gov. Eric Holcomb, Trine University President Earl D. Brooks II, Ph.D., and Dr. Rick L. James, chair of the Trine University Board of Trustees, stand on stage at the university's annual Touchstone and Homecoming Celebration Dinner on Friday, Oct. 5, after Brooks was surprised with the Sagamore of the Wabash award by Holcomb. Photo by Dean Orewiler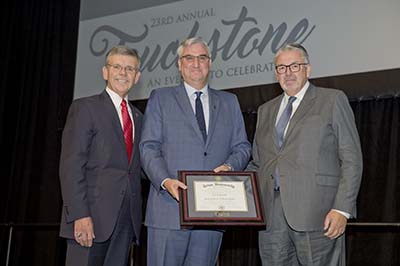 From left, Earl D. Brooks II, Ph.D., Trine University president; Indiana Gov. Eric Holcomb; and Dr. Rick L. James, chair of the Trine University Board of Trustees, stand after Holcomb received an honorary degree from Trine University during the Touchstone and Homecoming Celebration Dinner on Oct. 5. (Photo by Dean Orewiler)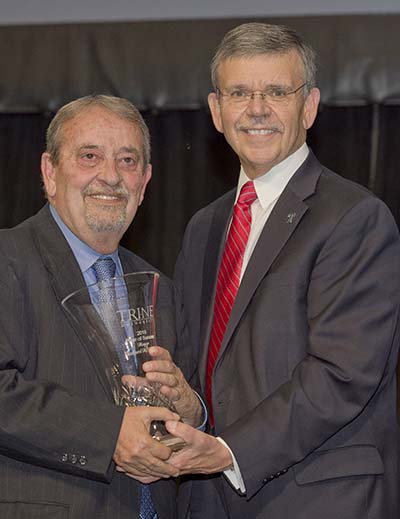 Angola Mayor Richard Hickman, left, receives Trine University's Pillar of Success award from Trine President Earl D. Brooks II, Ph.D., at the university's Touchstone and Homecoming Celebration Dinner on Oct. 5. (Photo by Dean Orewiler)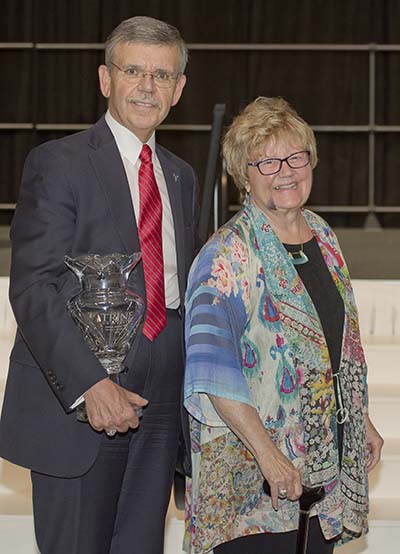 Trine University President Earl D. Brooks II, Ph.D., left, presents Jean Deller, Ph.D., faculty emeritus, with the Woman of Distinction award at the university's Touchstone and Homecoming Celebration Dinner on Oct. 5. (Photo by Dean Orewiler)