Trusty to lead Trine engineering technology programs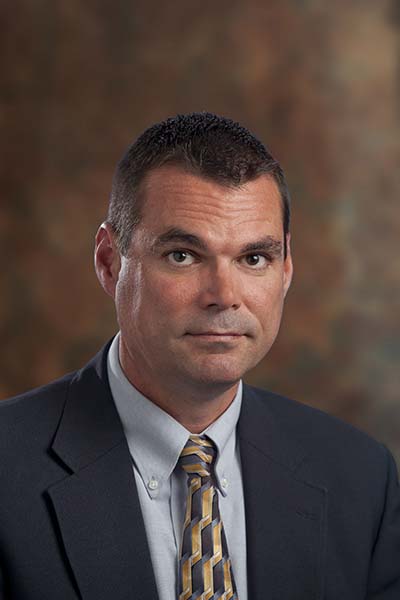 Thomas Trusty has been promoted to associate dean of engineering technology at Trine University, effective June 1.
Trusty has taught at Trine since 2007, most recently serving as chair and associate professor in the Department of Design Engineering Technology. He will continue in that role and will add oversight of Trine's computer information science (CIS) program, which will move from the Jannen School of Arts & Sciences to the Allen School of Engineering & Technology to provide increased synergy with Trine's engineering programs.
"Design engineering technology at Trine has flourished under Tom's capable leadership, and he is ideally suited to guide our computer information science program to the next level, providing a personalized experience for Trine's CIS students that prepares them to meet market demands," said A. Allen Hersel, Ph.D., vice president for academic affairs.
"I am extremely excited to begin this new role, and look forward to working together with our excellent faculty, using that collective energy and expertise to keep our engineering technology programs leading the way into the future," Trusty said.
Trusty holds a Bachelor of Science in industrial technology from Purdue University, a Master of Arts in career and technical education from Ball State University, and a Master of Science in engineering technology from Trine University. His professional experience includes working with companies such as Bradbury & Associates, Firestone Building Products, Impex Corporation, Minkus Construction Corp. and TruTech Design, Inc.
He has received multiple awards from the Indiana/Illinois section of the American Society for Engineering Education, most recently earning Outstanding Campus Representative honors. He also has received several McKetta teaching awards while at Trine, including the Professor Gerald H. Moore Overall Excellence in Teaching Award in 2014.
A United States Marine Corps veteran, Trusty serves as faculty advisor for Trine's Air Force ROTC.