Do you like prizes? Good news! The Amy Salyer-Nicholls Writing Center hosts contests and events every semester.
Everyone is invited to participate in the Writing Center events and contests! We typically host a few contests each semester where students of all majors and class levels can participate. Check out our current events below for more information!
Current Events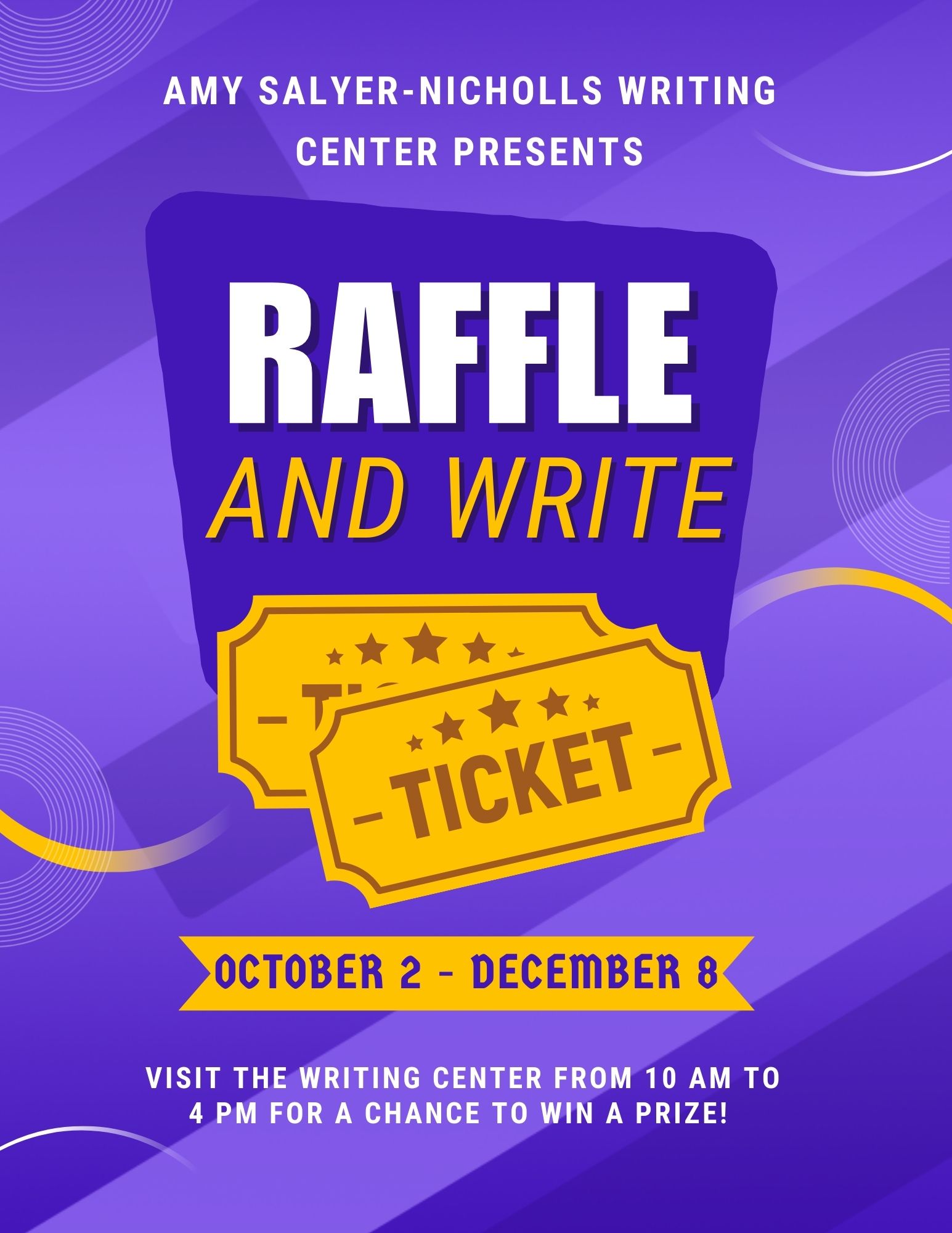 Come to the Writing Center during our open hours of Monday-Friday 10-4, work for 30 minutes (with or without a tutor session) and enter for your chance to win in one of our raffle drawings!
Raffle-N-Write will run from Monday 2 October until Friday 8 December, with drawings each month for prizes such as gift cards, WC swag, and donations from local businesses. Stop in for your chance to enter today.
Congratulations to our October Raffle and Write winner Jacob Mabis! Stay tuned when we draw again in November.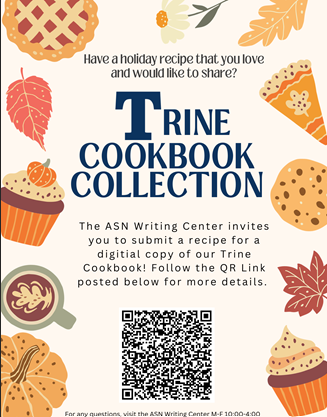 In preparation for the upcoming holidays, the Amy Salyer-Nicholls Writing Center is collecting your favorite recipes to be featured in a digital cookbook.
If you have a recipe you'd like to share, please submit it using this form or by emailing us directly at writingcenter@trine.edu.
We are accepting submissions until midnight on Monday 4 December. Recipes will be compiled into a digital cookbook available on our website by finals week at the latest.
National Stress Awareness Survey Now Closed
Congratulations to the National Stress Awareness Survey winners; Haylee Richards, Emily Wilhelm, Darya Weintz, Casey Murray, and Thomas Guisinger!
Favorite Thing About Fall Survey Now Closed
To celebrate the change in seasons, the Amy Salyer-Nicholls Writing Center hosted a survey contest. This contest is now closed. Congratulations to our winners: Allison King, Jacob Saylor, Hope Lang, Katy Bressler, Eryn Pickus, and Lauren Gannon.
Prizes can be picked up in the Amy Sayler-Nicholls Writing Center located in the LINK, Monday through Thursday from 10-4.
Previous Events

Holiday Window Decorating: Students visited the Writing Center to create holiday window decorations! Swing by the link to see some fancy snowflakes!
Spooky Character Interview: Check our Instagram page for the Interview submissions from October 2022.
Movie Night: On October 13, 2022, the Amy Salyer-Nicholls Writing Center hosted a movie night featuring The Perks of Being a Wallflower in Fabiani Theater.
Summer Recommendations: The Amy Salyer-Nicholls Writing Center asked Trine faculty and students to share some favorite book, movie or TV show recommendations for the summer.
Hear My Voice: The Amy Nicholls Writing Center annually hosts the Hear My Voice writing contest in the spring. Each spring students submit work for cash prizes, that are then judge by faculty and tutors. Past winners can be found here, along with additional information.