At Trine, Quality Matters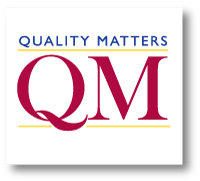 Trine University is a Quality Matters institution with multiple faculty members that are Applying the Quality Matters Rubric (APPQMR) and Higher Ed Peer Reviewer Course (PRC) certified.
A QM member since 2019, Trine University is part of a community of more than 1,200 organizations that put learners first. We collaborate with and learn from others in the community as we move forward to positively impact the online learner experience here and across the globe.
Quality Matters membership provides TrineOnline access to a comprehensive, research-supported quality assurance process to design and develop accessible, engaging online courses.
The QM Quality Assurance System relies on core principles to create a culture of continuous improvement to keep our learners engaged so our courses deliver day after day, semester after semester.
From course design, to delivery, to faculty preparedness, the Quality Matters process instill a "culture of quality" throughout the organization. Courses are peer-reviewed by multiple certified faculty and the student experience grows from this process.
More than 50 faculty members certified!